Charley Harper Sigma Dress | A Self-Covered Button
When Miss Maude listed this extraordinary Charley Harper Bird Architects barkcloth on her website, I resisted. My inherited love of bird prints was twanged, but I resisted. I was taken by the rich modernist illustrations, the seemingly beautiful texture, but still I resisted. The illustration is striking and fabulous, but what on earth would I use it for? What pattern would it suit? And do I really need white clothing in my messy, busy life?
But when Miss Maude got down to her final 2.5m (I was obsessively checking with many an abandoned shopping cart, probably much to MM's consternation—sorry, Emma) I gave in and hit purchase. And boy, oh boy am I pleased I did. This barkcloth is such a dream and it only awaited the right moment, the right pattern, the right mustard bias binding for everything to fall into place.
Enter the Sigma Dress from Papercut Patterns. This pattern was one of the first I made on my return to garment sewing in a woollen dress that, although now beginning to fall apart, is still in high winter rotation. The lines are simple and adaptable, and I had really taken the time to nail the fit to the best of my beginner abilities when I made my wool version. The simplicity of the dress lent itself to show off the gorgeous Charley Harper illustrations, and with The Fabric Store's delicious range of linen bias binding, I saw how this dress could come together into something special for Justin and my trip to Canada.
Yes, people. I decided that what I needed in my life was a white dress.
Having made this pattern before, the dress came together really easily, and I felt confident to make a couple of modifications. To achieve a cleaner line that I feel is more in keeping with the style of the illustrations, I swapped out the gathers for box pleats, which I also shifted inwards to be centred below the waist darts (I've also done this with the gathers on my woollen version, and I very much prefer this positioning on me). I omitted the neckline facing, choosing to bias bind the neckline and sleeves with that mustard linen bias binding. And I decided to go for a patch-pocket on the back of the dress instead of the inseam pockets. (I find the pockets as designed are too small to be truly useful (read: big enough to hold my phone) and they also mess with the line of the skirt in a way that I haven't been able to fix to my satisfaction, so, PATCH!)
As I knew the pattern, I knew that I could lavish the love of french and bias bound seams to create what I think are some truly lovely guts. As with my Kobe, I forgot to factor in that Papercut Patterns uses 3/8" seam allowances, making it a little tight for the french seams but it is doable. Using a tip from a friend, I overlocked the seams on the first pass (with a narrower three-thread stitch), and then did the second pass on the sewing machine. This system worked really well given the narrow seam allowance I was working with.
I bias bound both the waist seams and the centre back seams with a more neutral version of the linen bias binding. Regarding the waist seam, I didn't want to french it given the bulk created by the darts. This finish has been very successful by splitting the bulk away from the seam line. When completing the centre back seam, I bias bound the edges first and then put in the zip.
I'm thrilled with how this dress turned out. Regarding size, I measure between a medium and a large in Papercut Patterns, but sized down to a small. Papercut Patterns does tend to run large (check out the ease where ever possible). But also, I chose to do this because I wanted the bodice to be well-fitted, where it hits my waist before it goes into the tulip-shaped skirt. You may remember my rant about the term 'flattering', especially when it begins to inhibit what a person feels like they can wear. In this instance I wanted a very particular fit that could be termed 'flattering' for my figure—it hits my waist and cinches it in. For this dress, I love this fit, just as I love the fit of my drapey, dreamy, slightly ill-fitting Jack Trench Coat. For me, this is the fun and freedom of sewing: deciding the fit of each of my garments based on what I want from it.
The dress as designed is very short. V.E.R.Y. short. I added 2" before I cut the fabric, and then realised as I was putting it together that it was waaay to short for my comfort levels, hence the little sneaky line of bias binding and the extra couple of inches at the bottom. So you have a gauge, I'm about 5' 3 3/4" inches, and I had to add more than 3", and it's still a little on the short side for my sitting-down-comfort-levels.
In future I also need to remember to lower the bust dart by about an inch. You can see in the photo it sits pretty high. Hey hoe, I still think the bodice fits like all types of goodness so [shrug shoulder, flick hair].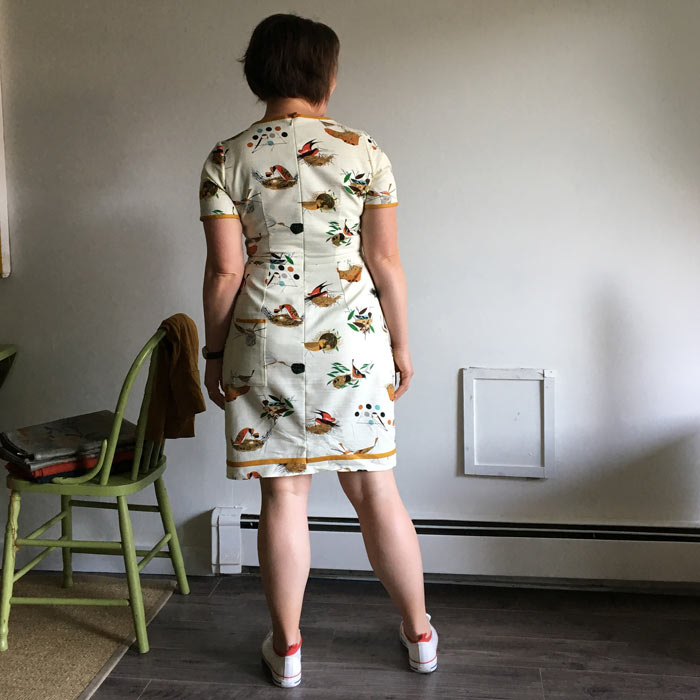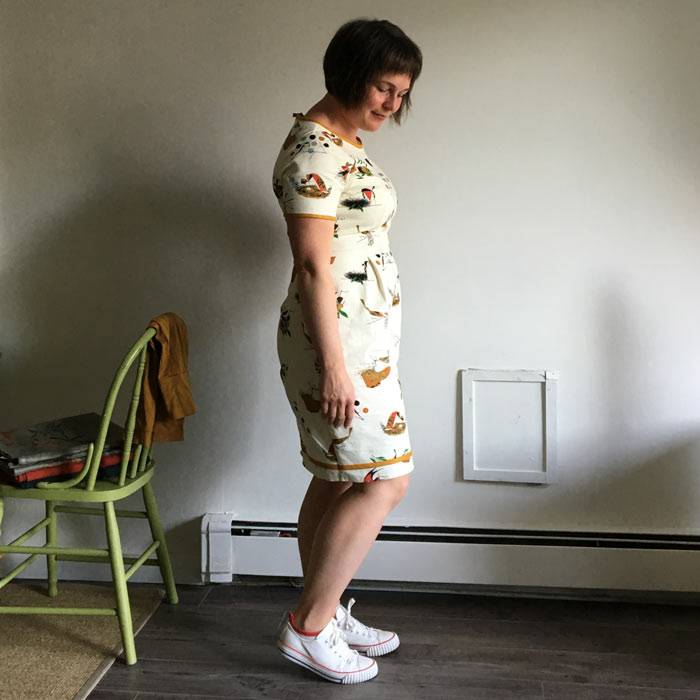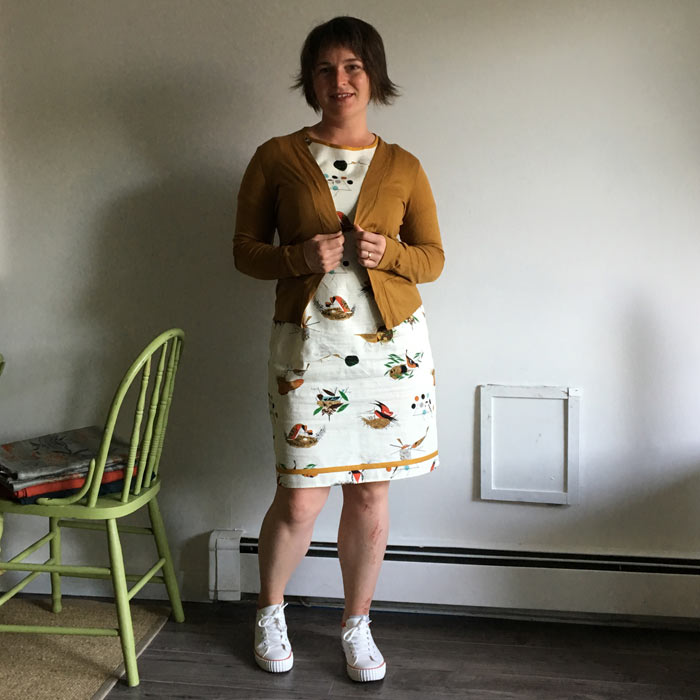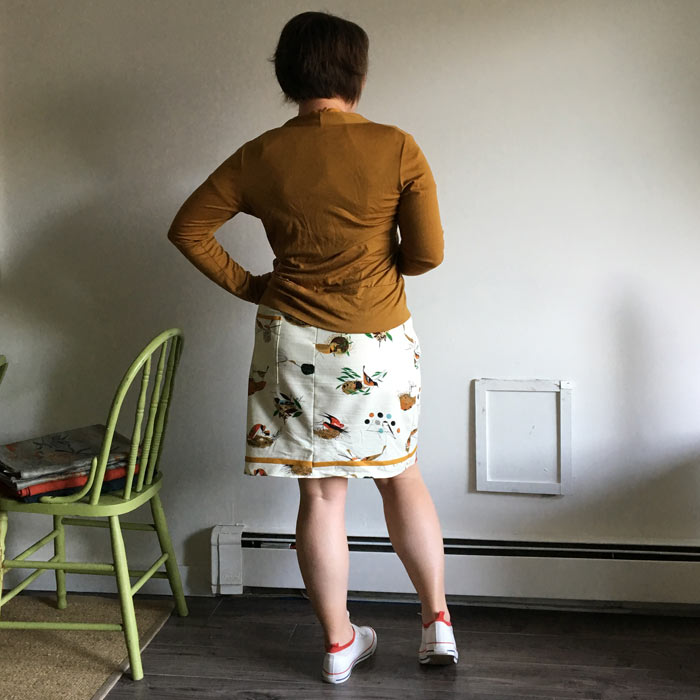 And doesn't she team so well with my Blackwood Cardigan? <3
Final Word
This is a great little pattern! I would highly recommend it for beginner sewists. The good thing about the pattern running a little large is that it gave me my first taste of customising the size in a design that has easily manageable features. The instructions are easy to follow, and the dress is a joy. It's a t&t pattern for me and I'm already planning another winter version for next year.
The fabric, too, is gorgeous. It's a good level of opacity and I'm able to wear the dress without any sort of slip. It was lovely to work with and lovely to wear. Needless to say, when Miss Maude said she had a little more stock, I bought some more! I think maybe a Sew Over It Libby Shirt might be its destiny.
I love this dress and it's made a suprisingly high number of outings, given how coy summer is being about showing her face in Wellington this December.
Sadly, though, many birds were decapitated in the making of this dress.