January 2019 | Mismatched Buttons (A Monthly Journal)
With my PhD heating up as I headed towards confirmation, January was a month of scatter-fire making. I haven't had the time or focus for long sittings, as I've been spending most weekends in a frenzy of confirmation document writing, so this month of making has been based on things that can be accomplished in small bites: embroidery, knitting and a super-fun ceramic workshop. However, I did get one garment made…
I only managed to sew one garment, because I find it easier to focus on garment sewing in long sittings rather than doing a bit here and there, but in a very welcome spell after sending off a draft to my supervisors I had a Wednesday free to sew up some shorts, and damn did I need them.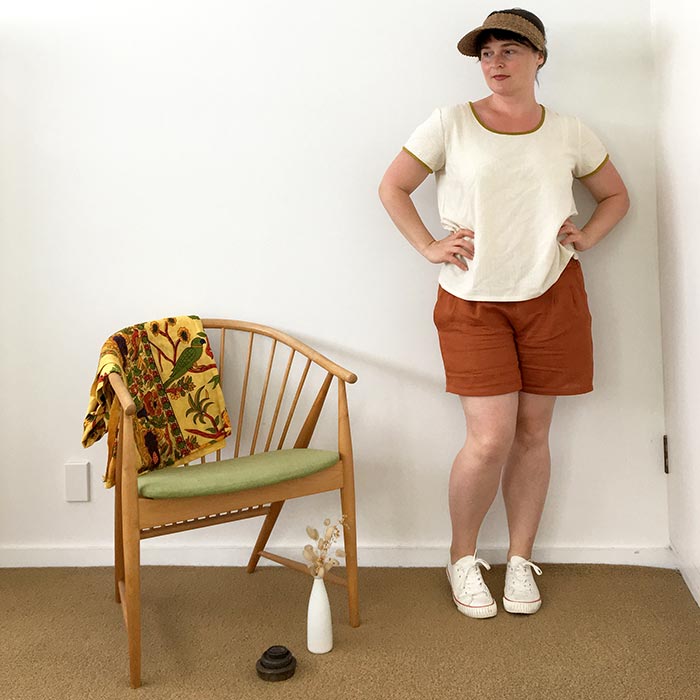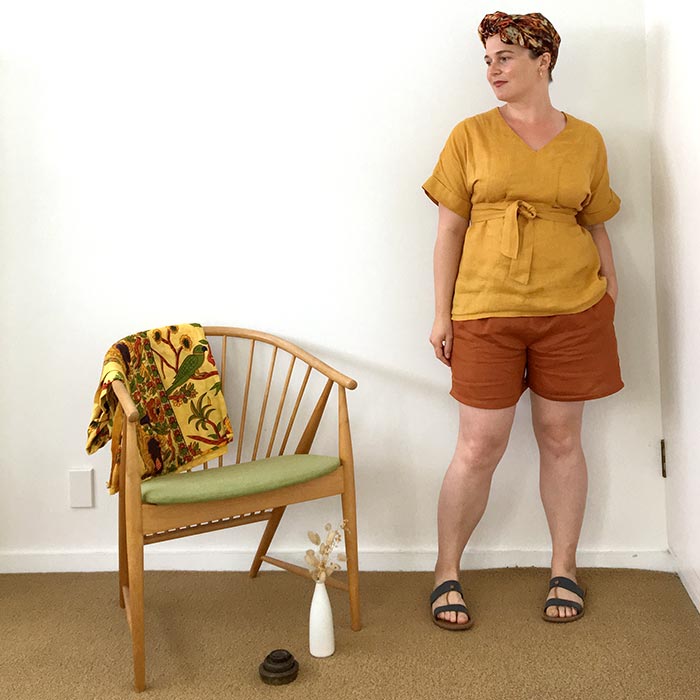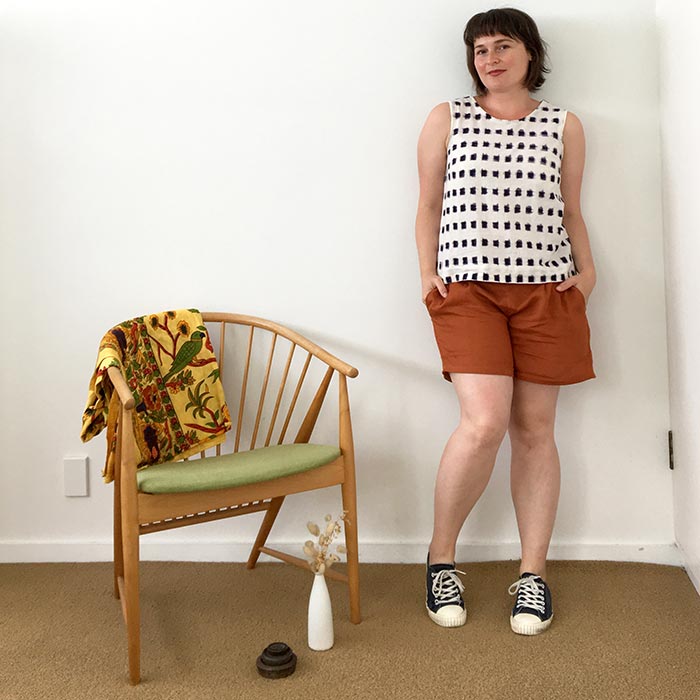 I haven't had a pair of shorts that fit nicely for two summers, and it's been ridiculous. The Emerson Shorts/Crop Pants from True Bias have been on my radar since last summer and I could just kick myself that I hadn't made them earlier. This is the mid-rise version, but I have plans for some high-rise crop pants as soon as I can get myself together to make some.
What can I say? These shorts are the shit. I. LOVE. THEM. I love them… I didn't have to make any modifications to them, not even grading. I made a size 14, and the only very slight adjustment was to bias bind the hem as I was feeling a little self-conscious about the length—the bias-binging meant I was able to keep as much length as possible while also giving them, to my mind, a jaunty piece of secret finishing. This is a very simple and forgiving make, and I have no hesitation in suggesting them to beginner or first-time pant makers. The pattern is easy to follow and it is a pretty quick little make. Inspired by Alexis of @pomegranatesandpieces, I had a lot of fun trying out my shorts in three different outfits, so there is a surfeit of photos of these shorts, but ¯\_(ツ)_/¯ I had fun photographing them, and I have fun wearing them!
They're made from some Paprika colourway mid-weight linen from The Fabric Store, and I bound the hem in some of their mustard bias binding. Regarding The Fabric Store's linen, I truly love it, but I haven't found either the mid-weight or the heavy-weight particularly robust when it comes to inner-thigh wear*. I would love to hear if other people have sewing-hacks for how to make the fabric in that area more robust at the outset, rather than having to repair things once it's becomes a problem. Please comment below, your help will be very welcome :-)
Elephant Ear and Rug, Finished
Sarah K. Benning designs beautiful, modernist-style embroideries that I've been very taken with since first encountering her work sometime last year. This one, Elephant Ear and Rug, was the first one I saw, and I'm so happy to have now made my own. The only thing remaining is to frame it properly and hang it over the ugly light fitting in the living room! I hope you enjoy this little time-lapse video of it coming together.
Colourwork Knitting, A Burgeoning Love Affair
For a while now my knitting has been in a deep dry spell. I've found it hard to know how to extend my practice, which has been dispiriting and frustrating because I do find knitting very calming. But, inspired by my extremely talented friend, Michelle, I've decided to try my hand at some colourwork knitting. Michelle recently made the Birkin Pullover by Caitlin Hunter, and it's a stunner! You can find it on her instagram, @mich_beattie, and I think you'll all agree that Michelle has made something special, right there.
The Birkin is what I'm working up to, but in the mean time I've loved trialing this technique with the Hoarfrost Hat by The Petite Knitter (this is the link to her Ravelry shop). So different from Wellington's bluebird summer days, The Petite Knitter's January instagram is a snow-globe wonderland, and her designs are so cosy and comforting looking—I'm so keen to try out more of her designs, and I love following her instagram account.
I'm knitting the Hoarfrost Hat up in Chickadee yarn from Quince and Co, using the colours maple, honey, gingerbread (doesn't all that sound delicious?!) and thorne as the main colour. I bought the yarn at my local, Holland Road Yarn Company.
The small amount I've done makes me feel confident I might be able to break this knitting dry spell at last!
Practically Neighbours! A Morning with Wundaire
Felicity, of Wundaire Ceramics has been running workshops just up the road (little more than half a kilometre!) from my house for a while, and I'm so pleased to have finally gotten along to one of them. My sewing bud Emma of @emmas_atelier corralled a few of us together for a private workshop learning how to make some simple terrazzo tableware.
Terrazzo is essentially imprinting thin strips of coloured clay into the base clay to create designs that are like magnified confetti. The workshop was so much fun, and the end results are colourful and delightful! I loved getting into a froth of indecision about which colours to use, panic choosing, changing my mind and choosing different colours for the other side of my bowls, and hanging out with an awesome bunch of creative ladies.
We're now waiting for everything to be glazed and fired before I can show off the finished pieces. This morning workshop, followed by a lunch at my local bar, was a wonderful antidote and breath of fresh air after all the PhD focus—it was a great day out of the office.
Felicity has since moved to Greytown in the Wairarapa, but if you're Wellington or Wairarapa based, I can highly recommend attending one of her workshops. Felicity is a lovely, encouraging and accommodating teacher. In fact, she's so nice, I'm doing it twice! Ruby has organised another workshop for April and I am simply fizzing with ideas for what I'm going to do next…
Best Laid Plans: Make Nine 2019
Ooolala! It's Make Nine 2019 time! I've found that having pattern schema matched with a swatch on the pin board behind my machines has been a really good way of focussing my sewing motivation (less analysis paralysis!) so I've made my Make Nine 2019 analogue. This is a first-draft and things may change, but one key thing is I do want use fabrics from my current stash, that is everything bought before 2019. There may be one or two changes, but my goal is for the Make Nine to be about working through what I have. I think I'll also change things up on my pin board as I finish each project, and keep a monthly record of how it's changing through the year.
So, without further ado:
• A mid to long silk skirt, possibly made from hacking the Sigma dress/skirt pattern. Inspired by my Kobe dress I want a super lux separate made from this beautiful fabric. Pattern to be confirmed.
• Sasha Pants in a few colours as I need a pair of nicely fitting pants to see me through the year. I'd like a cropped pair along with full-length pairs. Sasha Pants from Closet Case Patterns.
• I've never felt comfortable in shirts with traditional collar stands, but I want to experiment with the mandarin collar of the Mèlilot. Mèlilot Shirt from Deer and Doe.
• In line with the above, I want to try the more relaxed collar of the Libby. Libby Shirt from Sew Over It.
• I need some more basic tees and have long loved the Gable for the slash-neckline. I'm also going to try hacking it to make a cowl neck, replacing a rtw that I love but is falling apart. Gable Top from Jennifer Lauren Handmade.
• HOLY CRAP YES THE YELLOW LUZERNE WILL BE A THING! Dick Tracy style, here I come! Luzerne Trench from Deer and Doe.
• And the gorgeous swing Opium coat from a curious fabric made from recycled plastic. So excited about this! Opium Coat from Deer and Doe.
• A new woollen Sigma Dress for winter, or possibly two, made out of fabric from Vancouver. Sigma Dress from Paper Cut Patterns.
• And finally a Moss skirt for wearing All. The. Time. Moss Skirt from Grainline Studio.
*(Oh, and a quick word on inner-thigh wear, can we stop with the shit like calling it, ugh, chub-rub? Honestly: F—T—S. Inner-thigh wear is all to do with the shape of your thighs—regardless of the proportions of muscle and fat—and how much you walk and move. I had that type of wear when I was at my most slender, which was deep in the healthy weight range as well as now after putting on some weight. As a cyclist—so because of thigh shape and activity—my husband has always gotten this type of wear in his pants. So, please. Let's stop with the pejorative and insulting terms. Let's neutralise it: inner-thigh wear. Rant over.)