May 2019 | Mismatched Buttons (A Monthly Journal)
After the intensity of finishing my Fifty Days Till Me Made May project, my making slowed down considerably during May. Don't get me wrong, I loved the rigour of a daily sewing practice, but by the end of it, and especially by the time I had finished Vespa, my Luzerne Trench, I needed a bit of down time.
BUT! —Ne'er fear, oh faithful readers, I still got some sewing done! Half way through Me Made May a gap in my wardrobe was positively yawning wide open, and it became apparent it was time to finish my long neglected Gingers…
Ginger Jeans of Light and Glory and EXCEPTIONALLY High Waist!
I started making these Closet Case Patterns jeans at an in-person class sometime mid-last year, before the joint pressures of my research and general life stuff meant I shelved the class, the jeans and anything that felt in the slightest way too brain-taxing. And so, intimidated by the task of finishing them, these poor gals languished in my WIP basket for many months before Me Made May hammered home to me that I really needed to finish these jeans. As. Soon. As. Possible. They had been on my list of garments for my Fifty Days Till Me Made May project, so it all felt like kairos was whispering—"finish the jeans".
And, seriously, I don't know what else to say except I love them! Now that winter is starting to bite, they barely leave my body, and I know I need to make more of them very, very soon.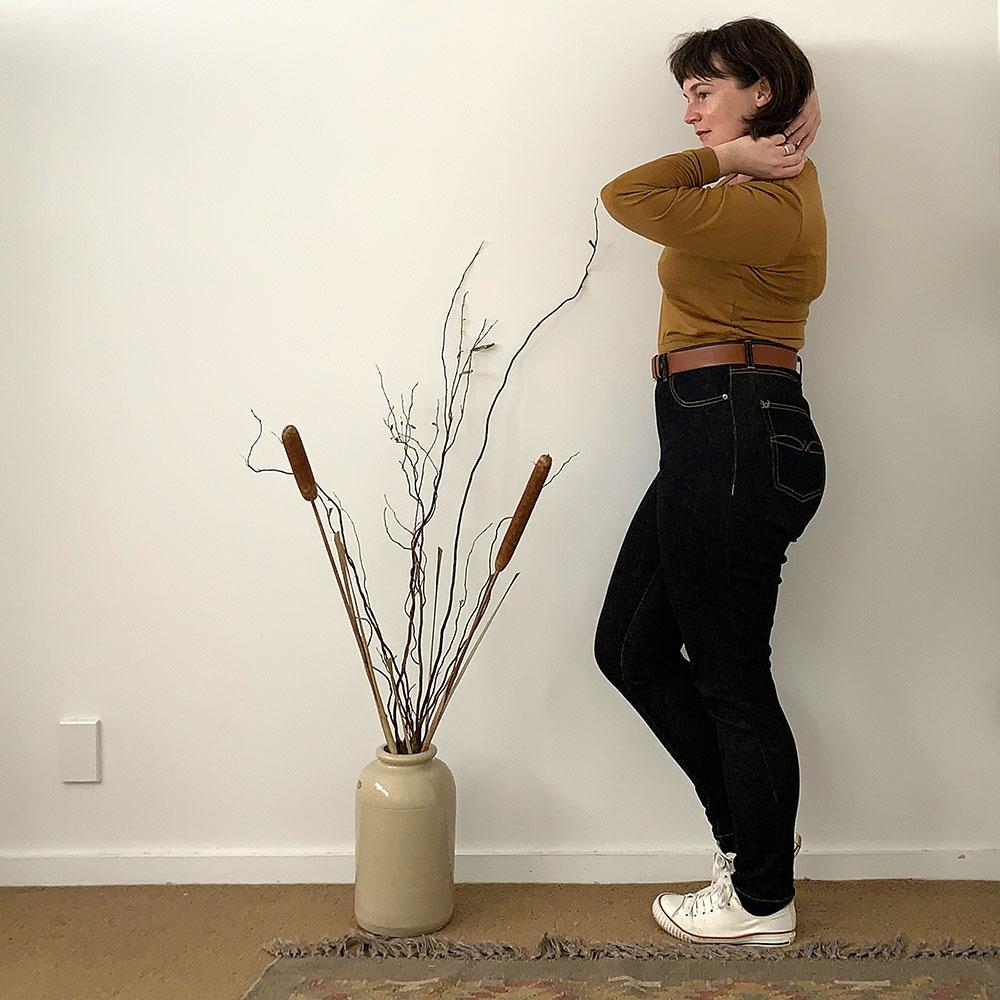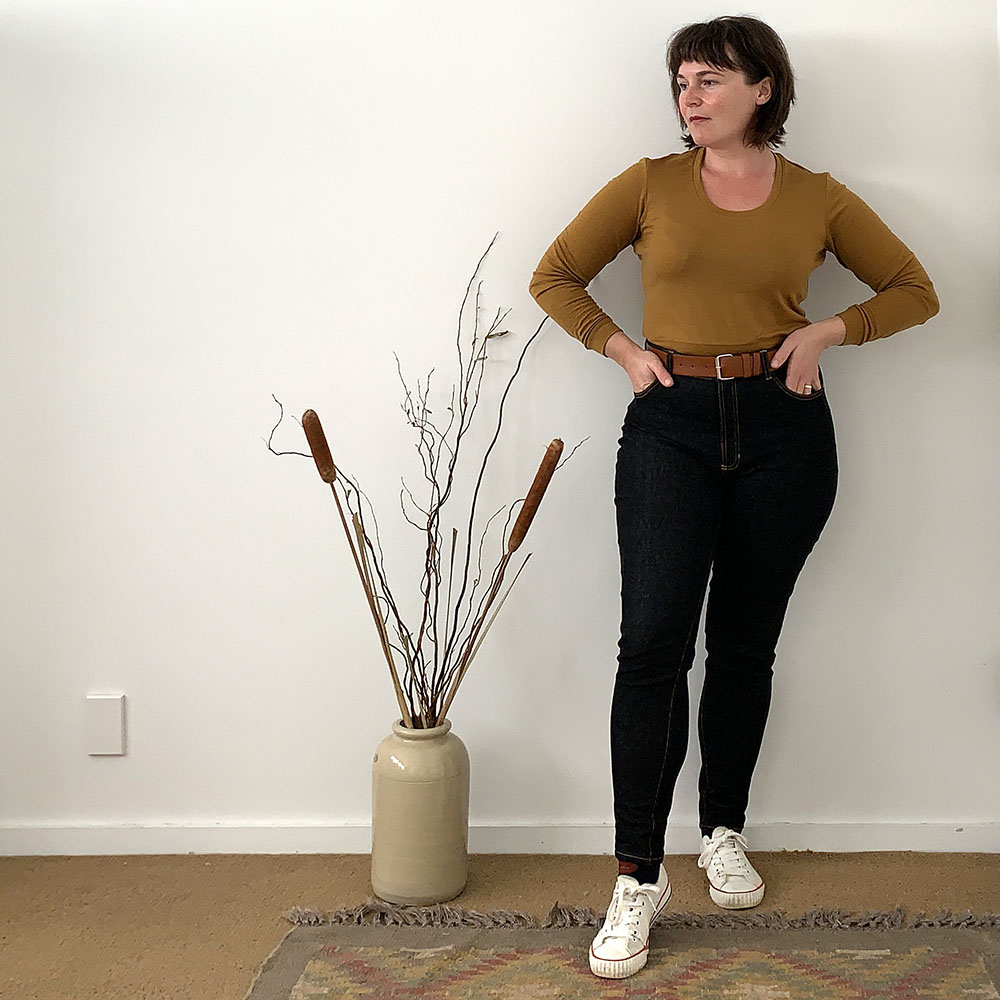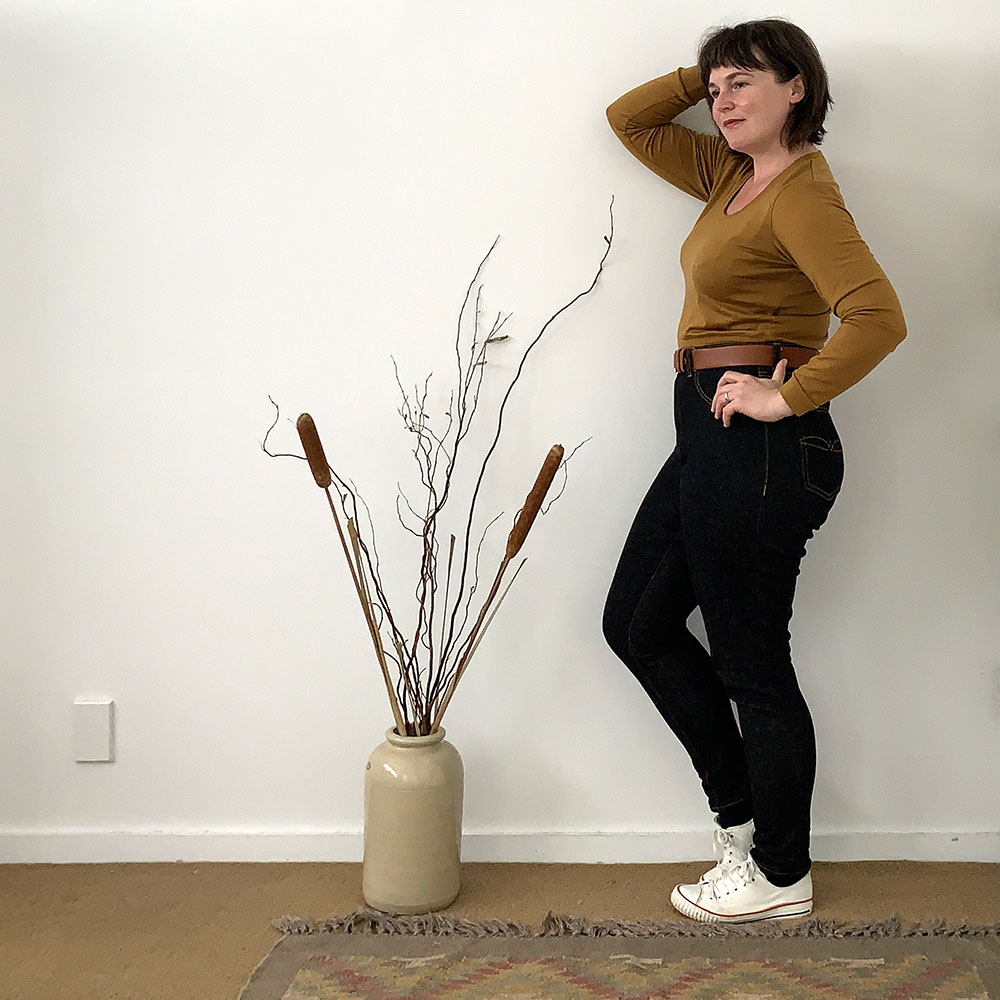 There are so many modifications to the fit that I don't even know where to start, except to say if you can, it is very worth getting some support/help from either a class or a fellow sewist to fit jeans. I don't know that I would have got the results I did get without the help of the teacher, Leimomi. But, to give you a sense of some of the changes that went into them, here's a partial and incomplete list of mods.
These were made with the intention of being a wearable toile. I started with a view B of the Ginger Jeans High/Low Rise Pattern in a size 14. From there and as a flat-pattern adjustment, we extended the back rise so the back was 2" higher than drafted (this was exaggerated so I could trim down a little later). From there, and after cutting out and basting enough together to test the fit, began a bewildering array of adjustments, from round pubis to full seat to thin thigh to sway back. The pattern I've ended up with (all changes were fairly meticulously marked out to become my new, personal jeans pattern) is very different from the pattern as drafted, and I swear, my bum has never been comfier!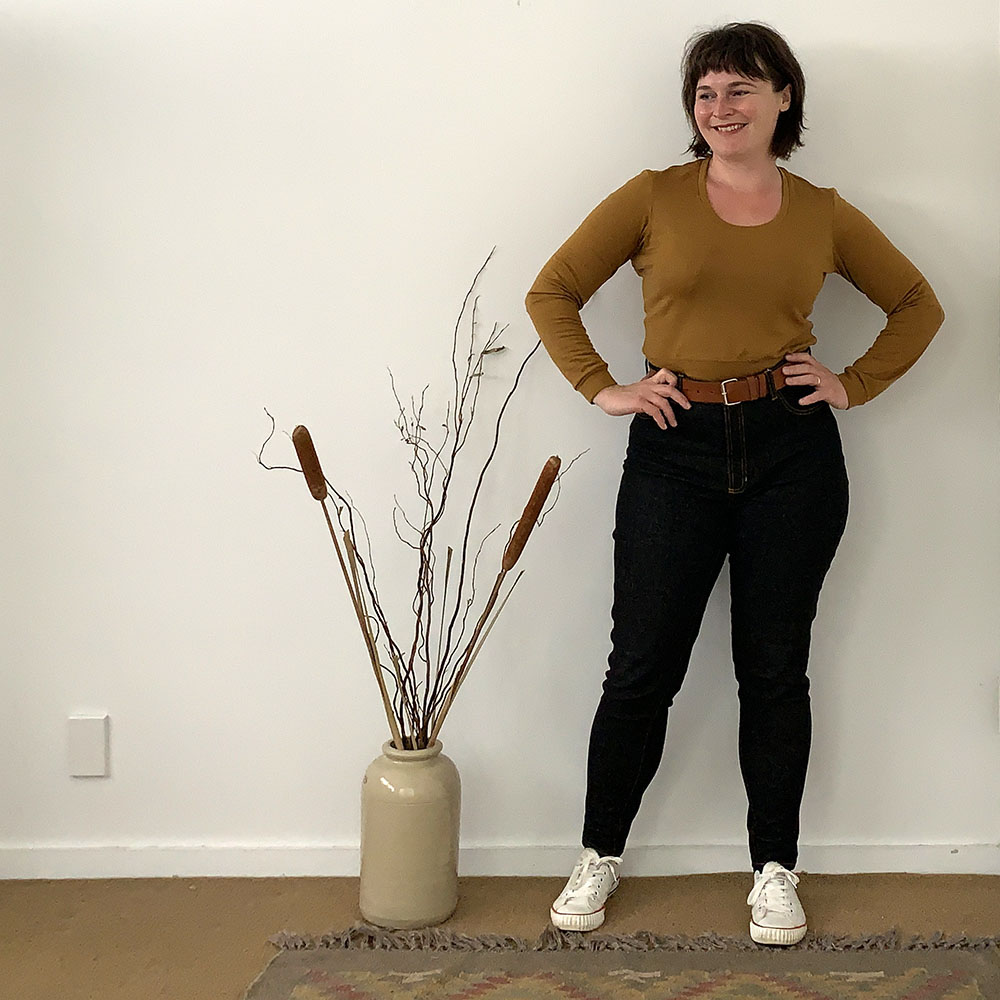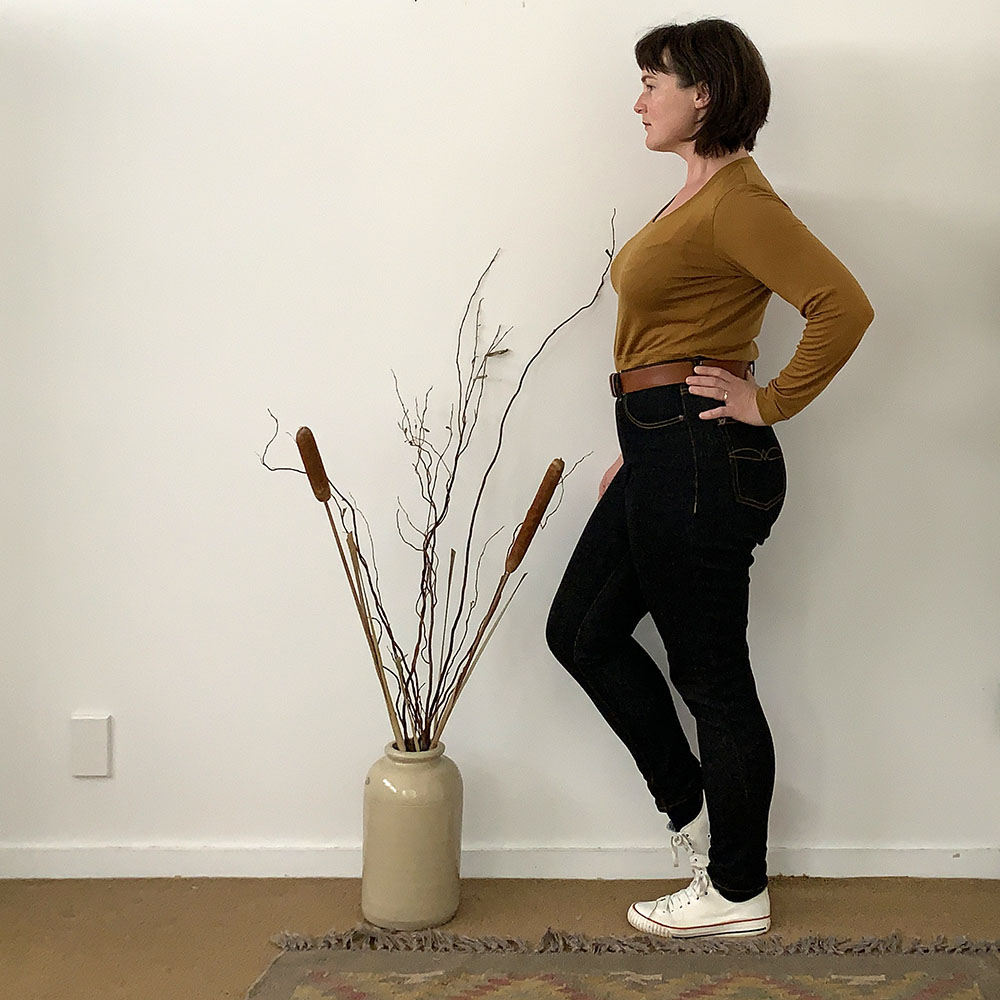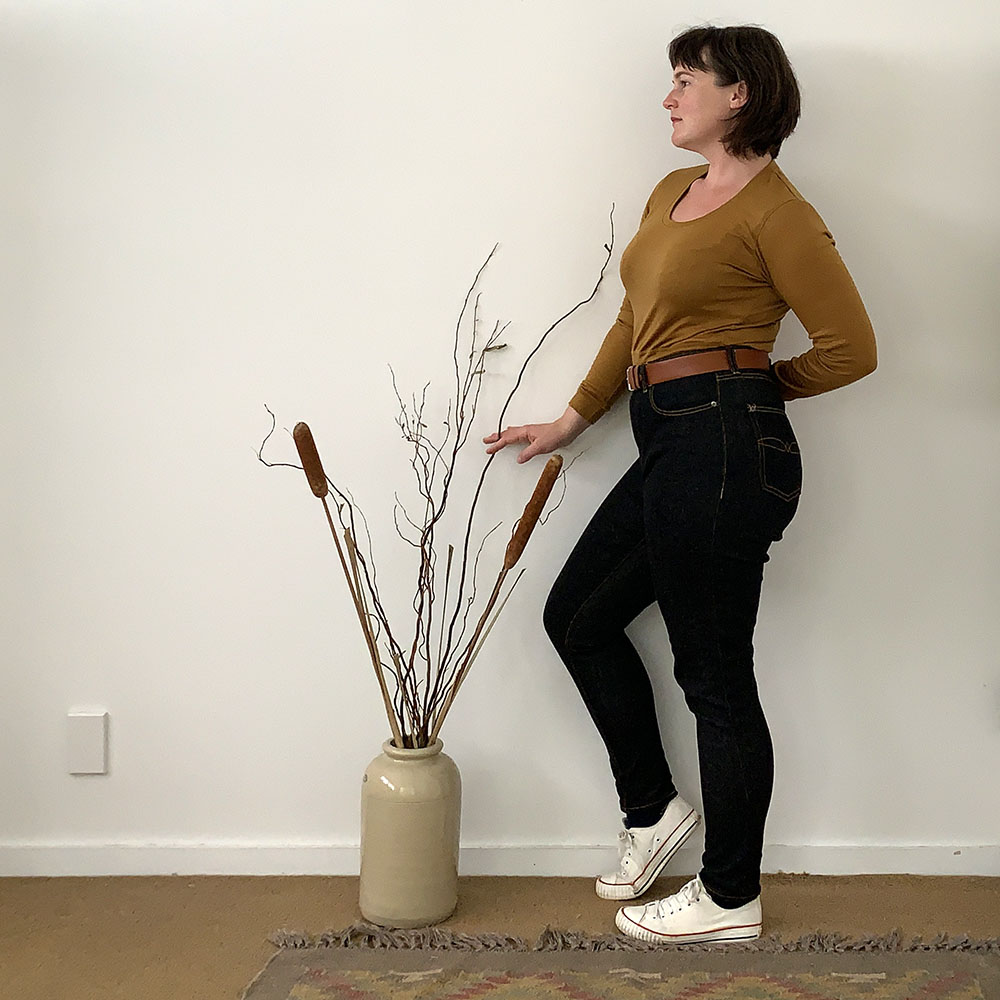 In the past week, I have taken the thighs in by about an inch as the denim was bagging out a lot after wearing, but apart from that I am truly ecstatic about having a pair of genuinely high-waisted jeans: jeans that fit my capacious bottom, swaying back and smaller waist—all huge problems with trying to find high-waisted rtw jeans. I've even had people complimenting them and asking where I got them from—a definite first in my jeans-wearing life! Are they perfect? No! But are they the best pair of jeans I've ever had?
Hell. Yes.
And I'll take that any day.
BAM! KAPOW! Beryl the Bomber Dress!
This review was written as a contributing blog-post for Miss Maude Fabric and Sewing Supplies. For transparency, Emma of Miss Maude kindly provided the fabrics, pattern and paid me for my time - but I was asked for, and provided, an honest and open review. Here's a snippet…
I saw this gorgeous Rose Pavilion Needlecord when I was sitting in an AirBnB playing fantasy-shopping-cart on Miss Maude's website (a favourite pastime for when I'm away from home), and was completely caught by her suggestion to team this needlecord with the Beryl Bomber Dress. The Beryl Bomber Dress is part of the Earth Science Collection from Named Clothing and takes its style from a bomber jacket. The vintage-looking floral of the needlecord combined with the tough design of the bomber dress felt so … right.
To read my full review of the pattern and fabric, follow this link to Miss Maude's blog: SEWING PATTERN REVIEW: Beryl Bomber Dress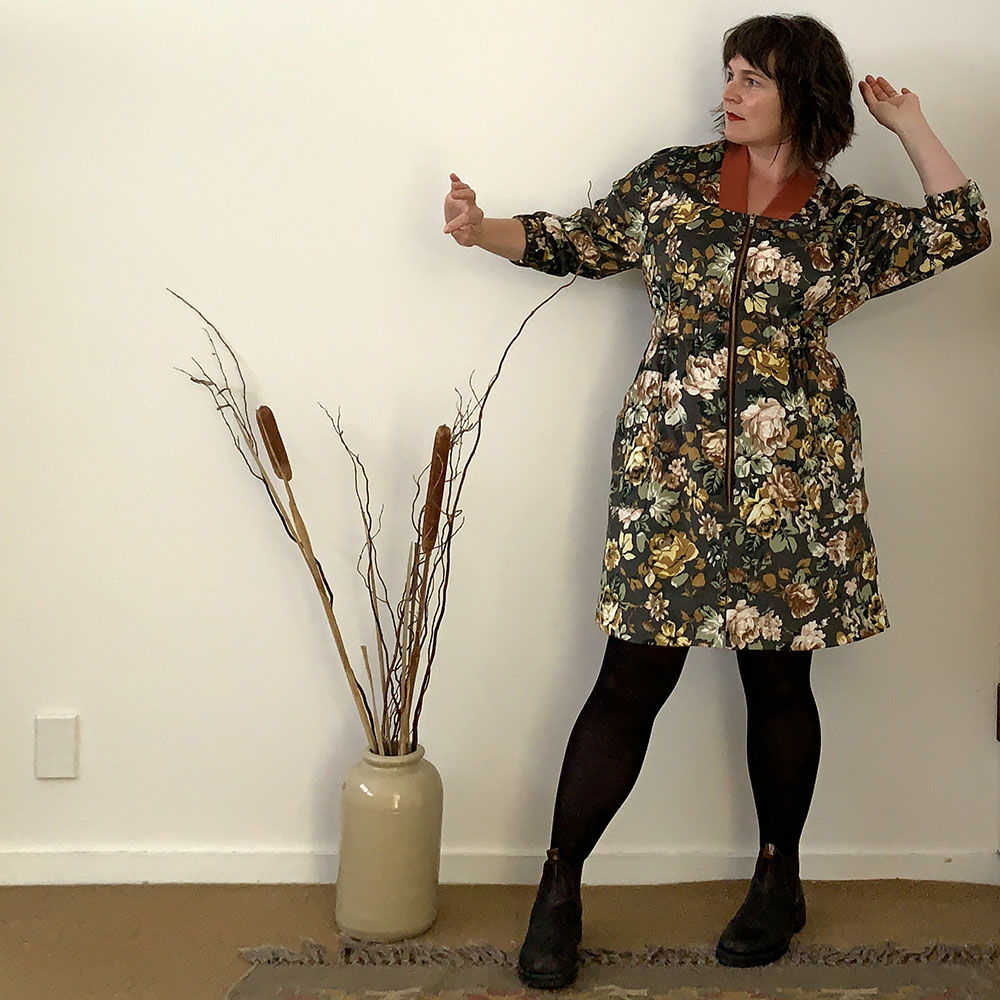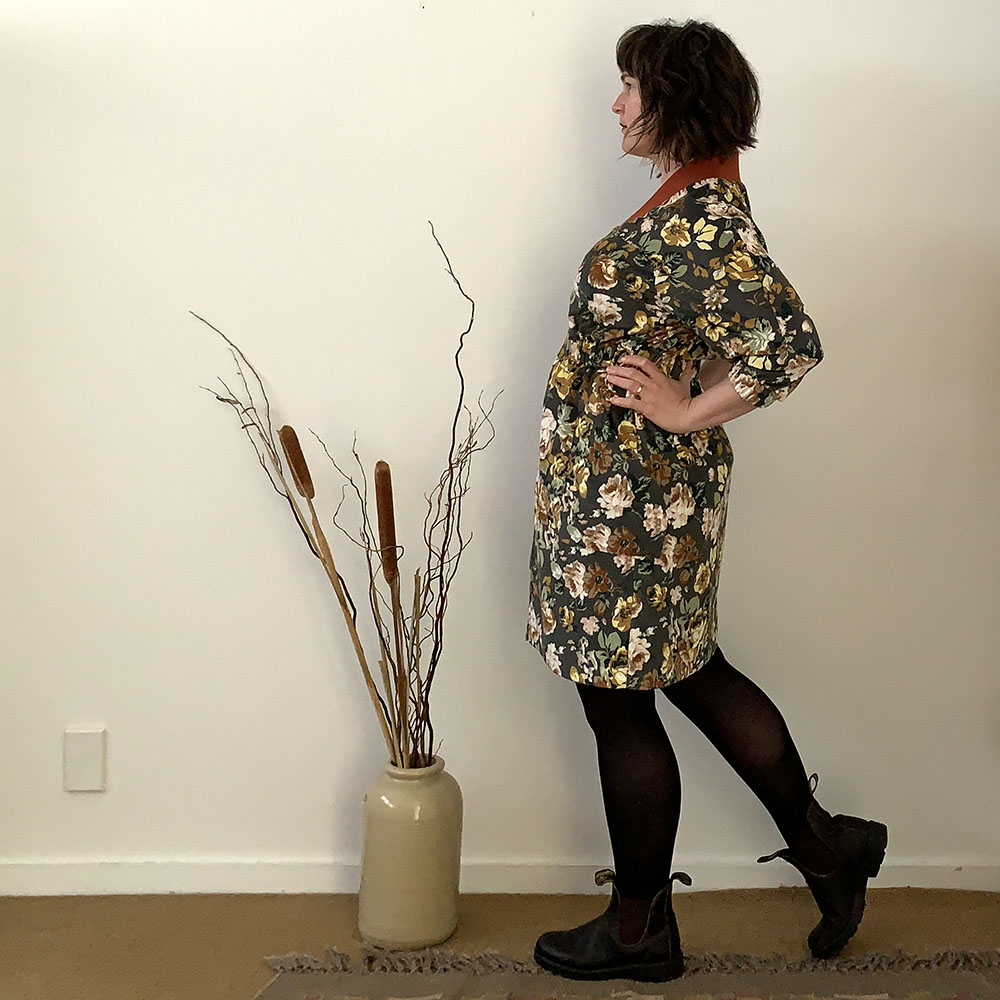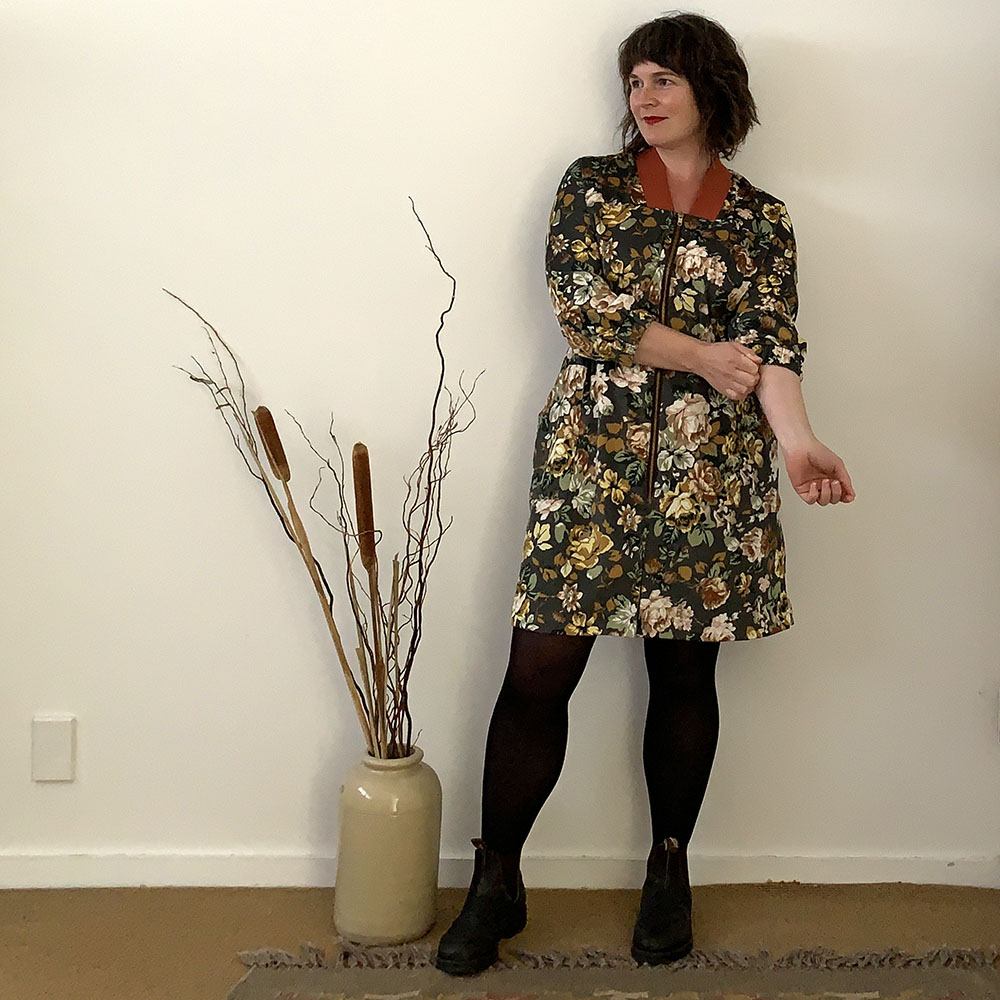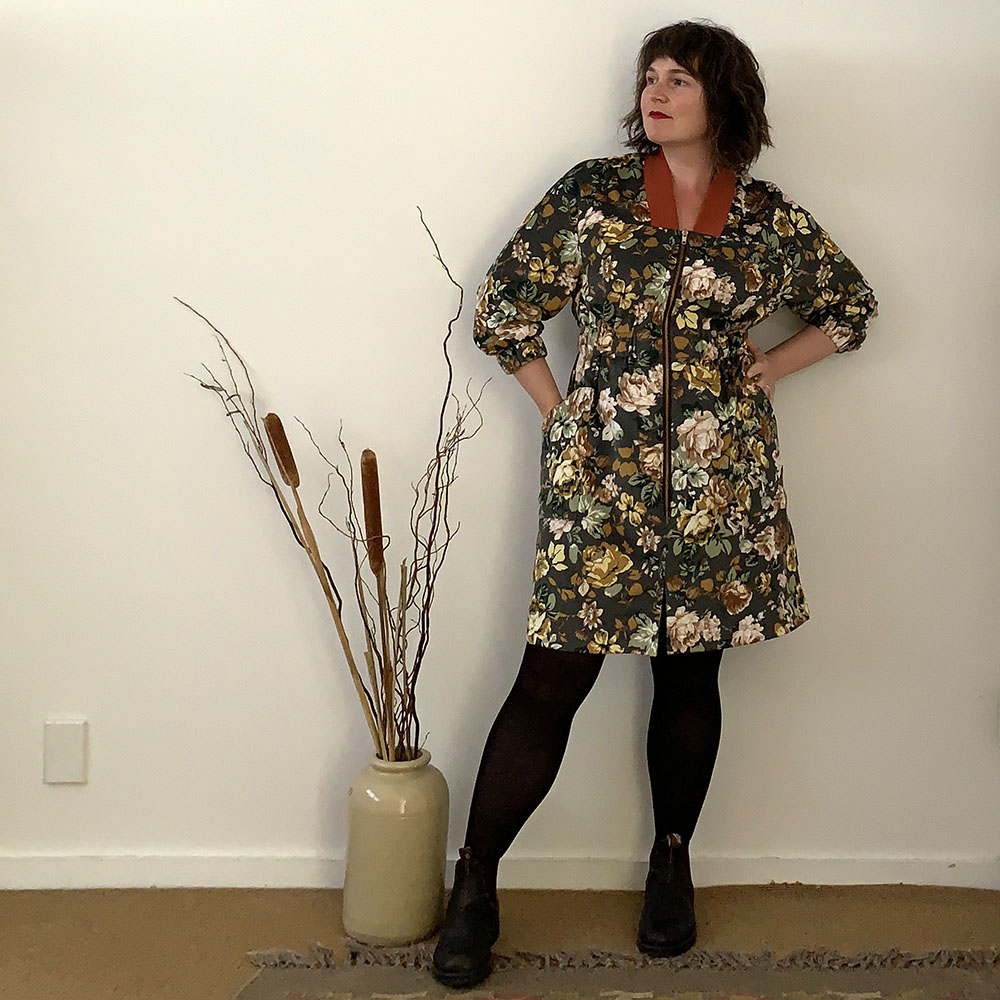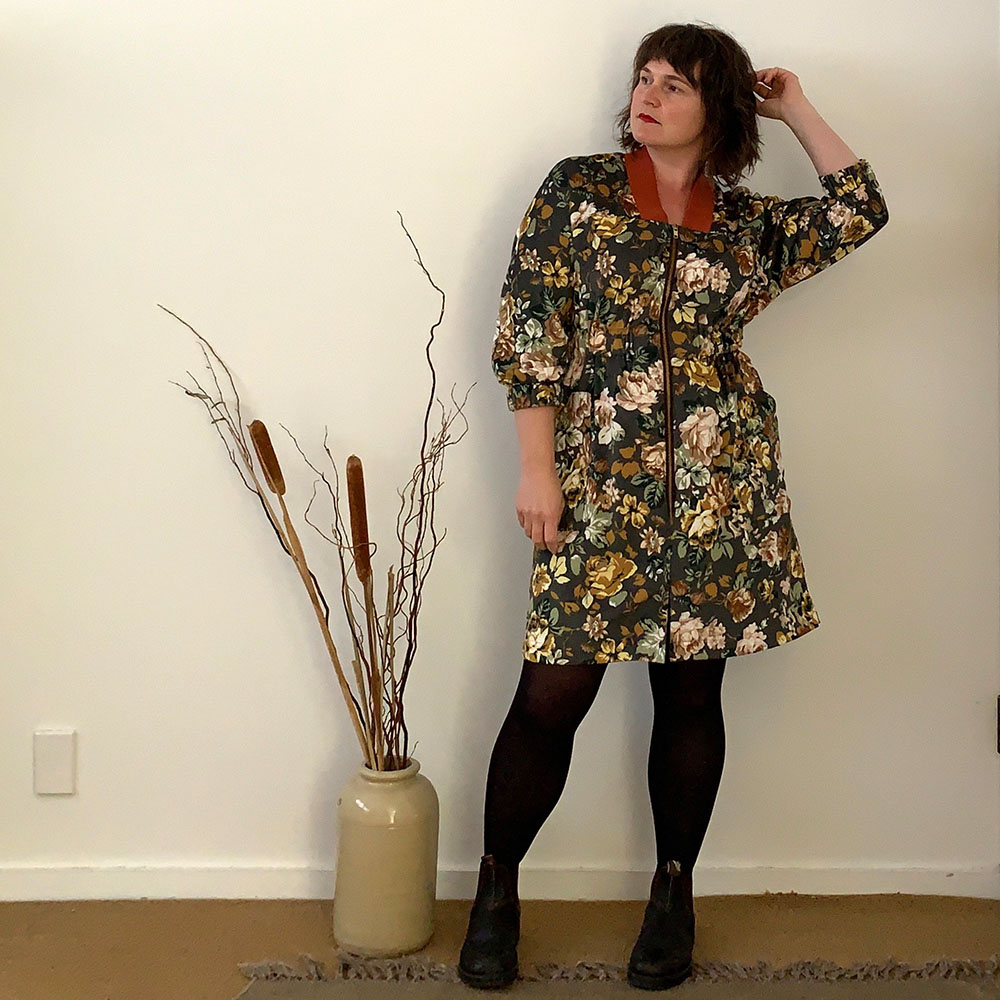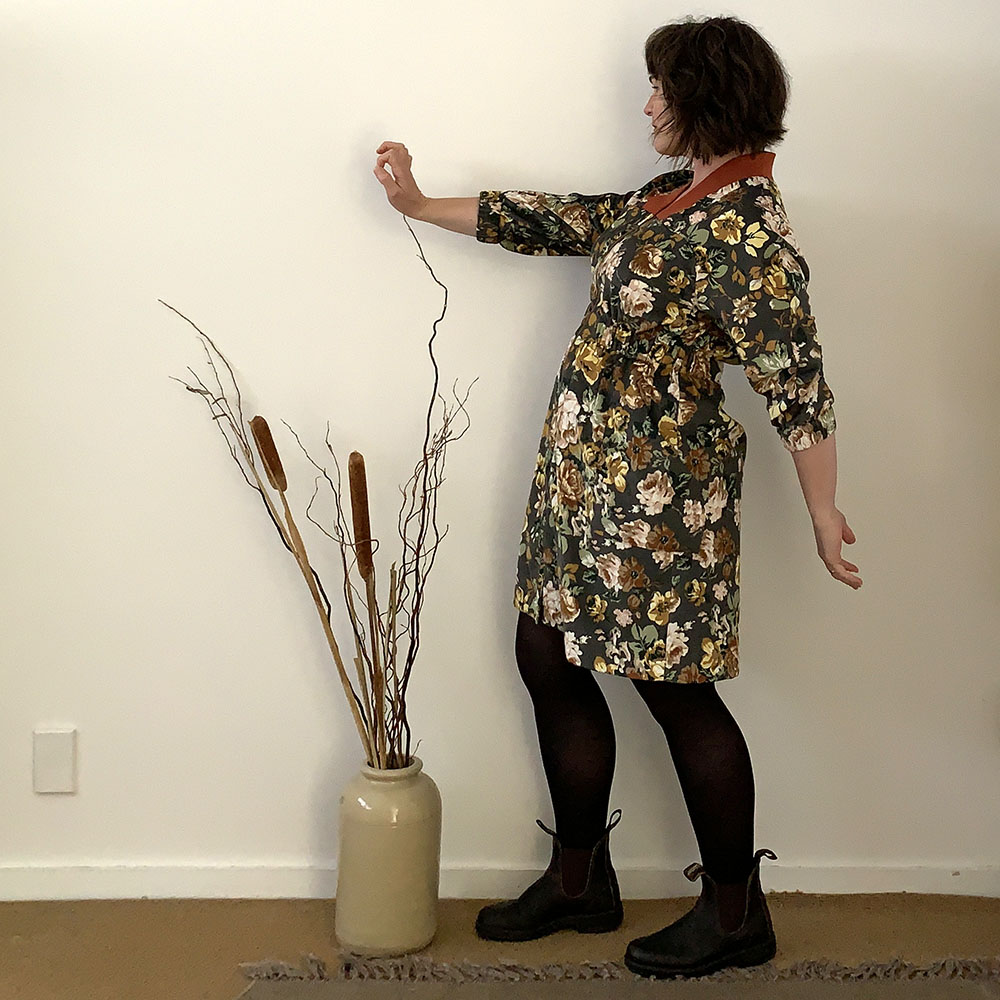 Thanks, as ever, for following along on my sewing adventures! See you soon with a wrap up about Me Made May!