Vespa the Luzerne Trench | A Self-Covered Button
I'm going to nail my colours to the mast early for this post and just come right out and say, I love the Luzerne Trench Coat. Designed by Deer and Doe for their SS2017 collection, I knew immediately that I loved this coat, that I wanted, nay, needed! this coat, but I didn't know when I would ever be skillful enough to make it. Two years into my revived garment-sewing-practice and this year felt like the year. This January, Luzerne went on my Make Nine 2019 list, and this April was my month to make it: I wanted Luzerne ready for Me Made May!
Of all the types of garments in the world, I am a coat-person: I used to love shopping for coats and still highly value my small collection of remaining rtw coats. Nowadays, though, coats are, without a doubt, my favourite garment to sew. I love the details, I love the structure, I love being able to play with the combinations of outer fabric and linings, I lovelovelove the magic-trick of bagging the lining! I don't love the time it takes to apply interfacing, but everything else about them? I'm here for it.
To the Luzerne Trench: this is a fit and flare, and I really wanted to level up my fitting skills. To this end, I spent a long time working through fitting a toile in preparation. You can read more about this by clicking here! Once I'd gotten that to a point I was happy with I moved onto the real fabric. And now, so shall we.
Fabric
For some reason, the idea seeded in my head a while back that I wanted this trench to be a yellow trench. I wanted full Dick Tracey vibes from it, with a yellow that would bop you in the face with a KA-POW! [and associated lightening-strike-like graphics], and I was thrilled when I realised the solution to this desire already lay in my fabric stash.
The Luzerne calls for a light to medium weight fabric and, although I knew I didn't want the trench to be soft or drapey looking, at first I was a little concerned that this 8.5oz Cotton Chino Twill (which I bought from Blackbird Fabrics with the intention of making something else that I now can't remember, because, Luzerne!) was going to be too heavy. However, it's not. This weight means my trench has lovely structure without being uncomfortable.
Notions
Part of the deepest joy for me about this coat is the bias-bound seams. Not only do j'adore the way it looks, but—not really to my surprise because I tend to like processes such as this—I loved the process of binding each seam. This Atelier Brunette Twist Mustard fabric had been back in my conscience for a wee while as I'd been using it as the backdrop fabric in photographs for my Moss Skirt, and it felt like a perfect, jaunty partner to my striking yellow cotton chino twill. I knew that Miss Maude stocked this as a bias binding, and the pieces I already had in my stash from an earlier project would be ample for the pocket bags and the contrasting underside of the collar.
While I was ordering the bias-binding from Miss Maude, I also found these most wonderfully wonderful vintage Italian buttons, and gosh but I love the way they finish the coat! They were the final piece of the puzzle, the moment when I knew this was no simple Luzerne Trench—she was Vespa the Luzerne Trench, a fabulous wasp ready to fight crimes and Wellington's misty, grey weather with a certain je ne sais quoi non so cosa!
The buttons, my friends, madeth the coat.
Pattern
I've long been a fan of Deer and Doe, and this pattern (if it wasn't already cemented enough) cemented a little more my deep and abiding love for what they do. After taking the time to fit the trench, the actual garment came together smoothly. I took a little time to research how to do bound button holes because it's terrifying to cut into the front of your coat, and I did do a trial-run in my real fabric. I learnt a few extra things through doing my research but, honestly, the instructions in the pattern aren't bad at all.
To learn about bias binding seams, I turned to Closet Case Pattern's blog post, and used the Hong-Kong seam version. It's more time-consuming at the outset than other one-and-done methods, but I got a beautiful finish without ever having to unpick because something looked janky. In this post, Heather-Lou makes a note that this won't work on curved seams, but I respectfully disagree: using your iron, you can press your bias-tape into a curve before applying it to a heavily-curved and/or notched seams (like the armscye or the back yoke) and it can hide those seams beautifully. (See earlier photos of the back yoke.)
I made a size 44 with extensive adjustments to cater for my sway-back and broad-shoulders (again, further information about fitting can be found by clicking here). In addition to these adjustments I tweaked a few other details: I used some of the Atelier Brunette Twist Mustard cotton lawn for one side of the pocket bag, to reduce bulk at the hips; I used the same cotton lawn with interfacing on the underside of the collar (because, collar-pop!!); and I gathered the sleeve caps, simply because I just love a gathered sleeve-cap.
Overall the Luzerne Trench coat is well-written, easy to follow, and it produces a really fantastic coat! I would dearly love to make another (maybe next autumn?) and after looking at it in calico for quite a substantial period during the fitting process, I rather fancy a bone-coloured version… OOOooo! The possibilities!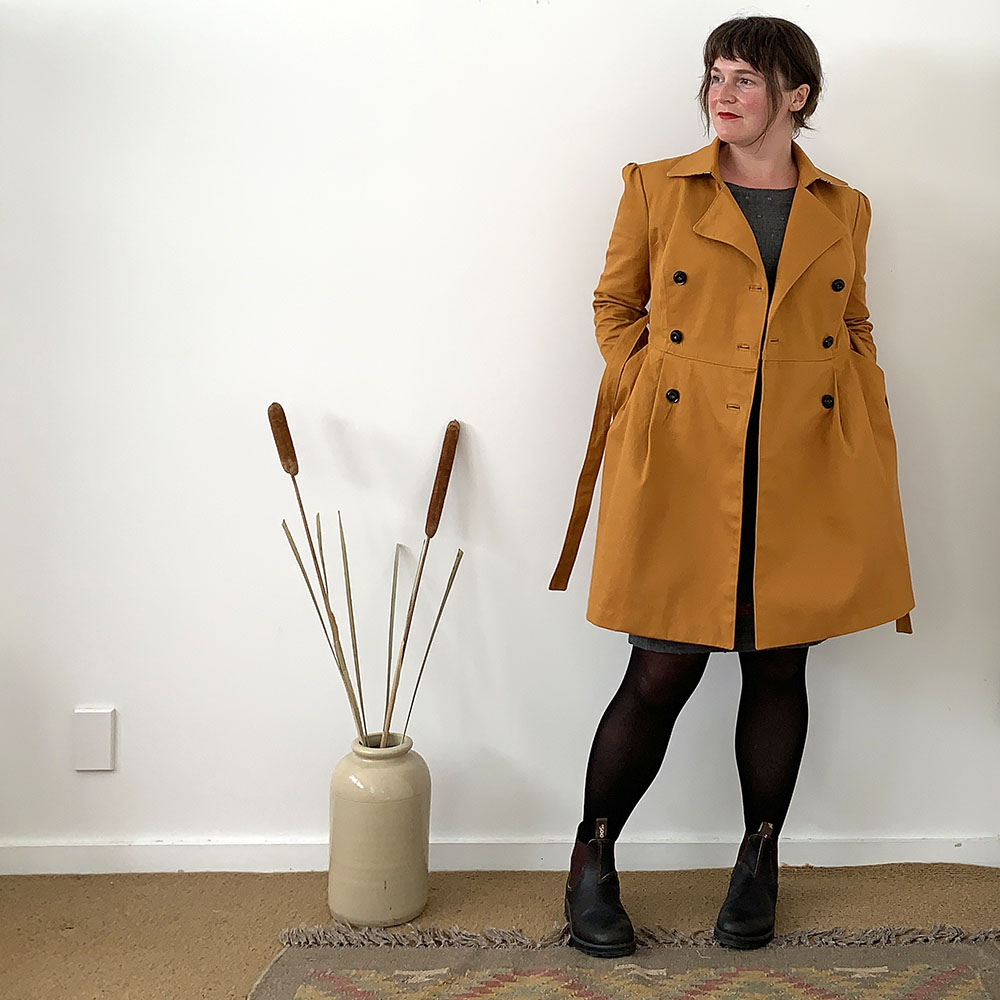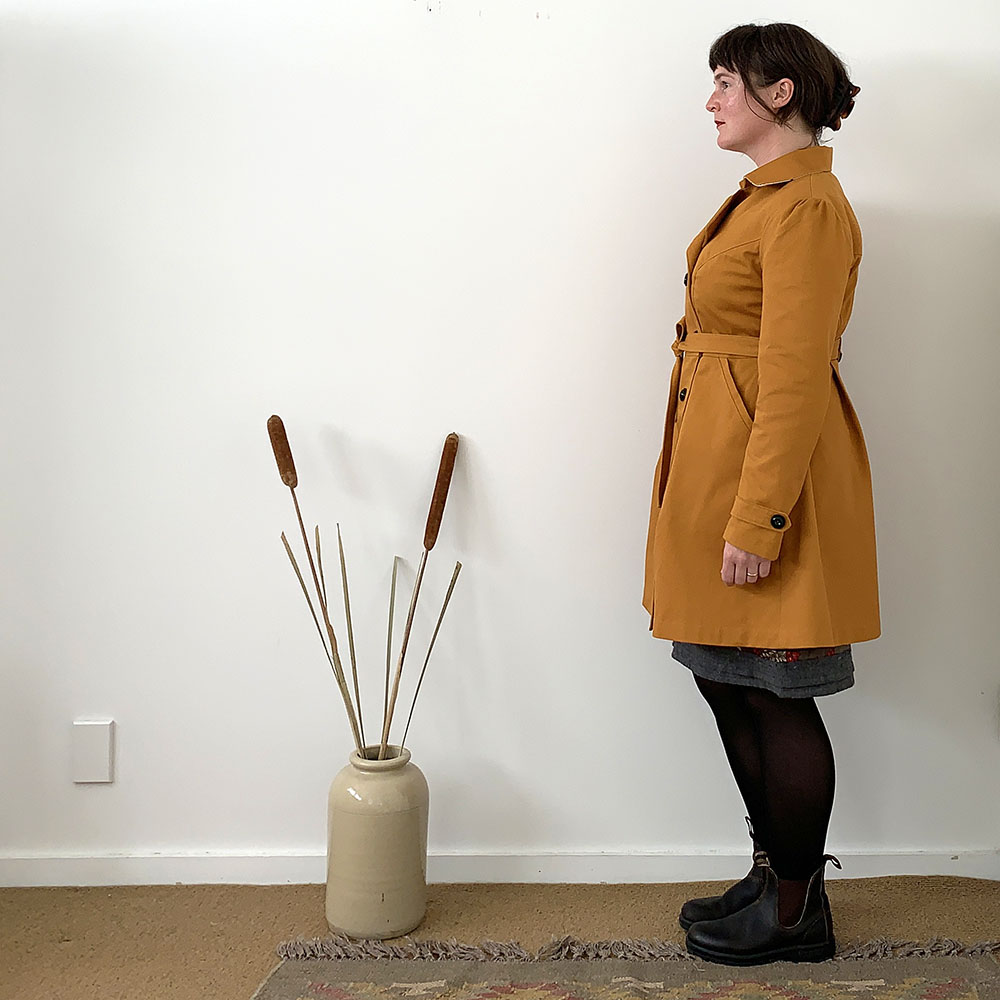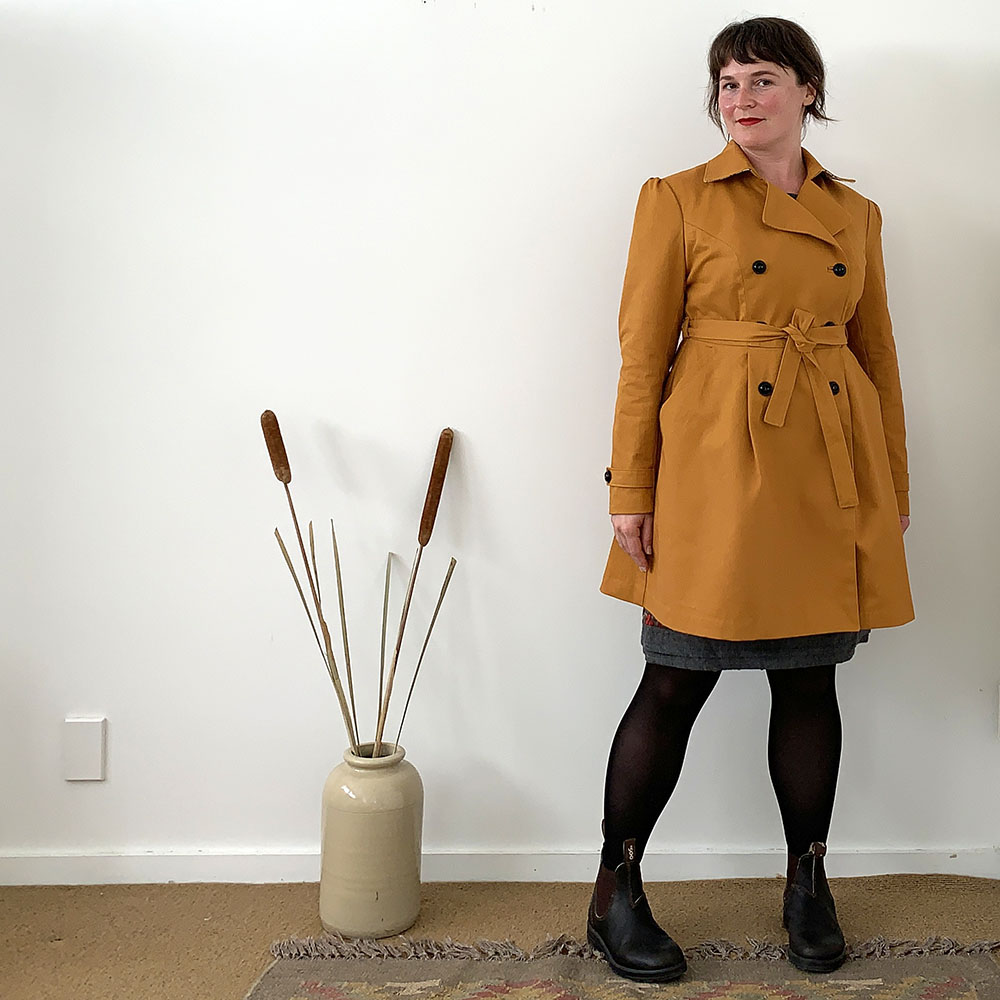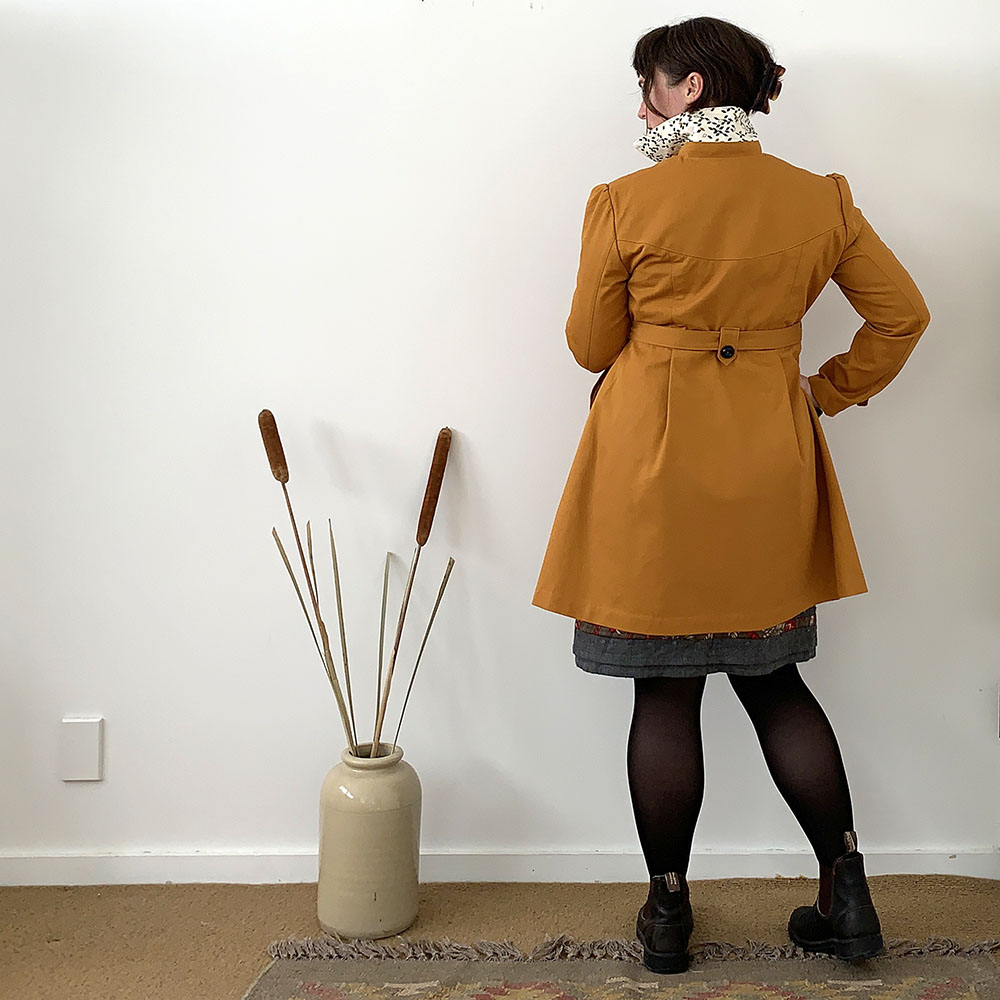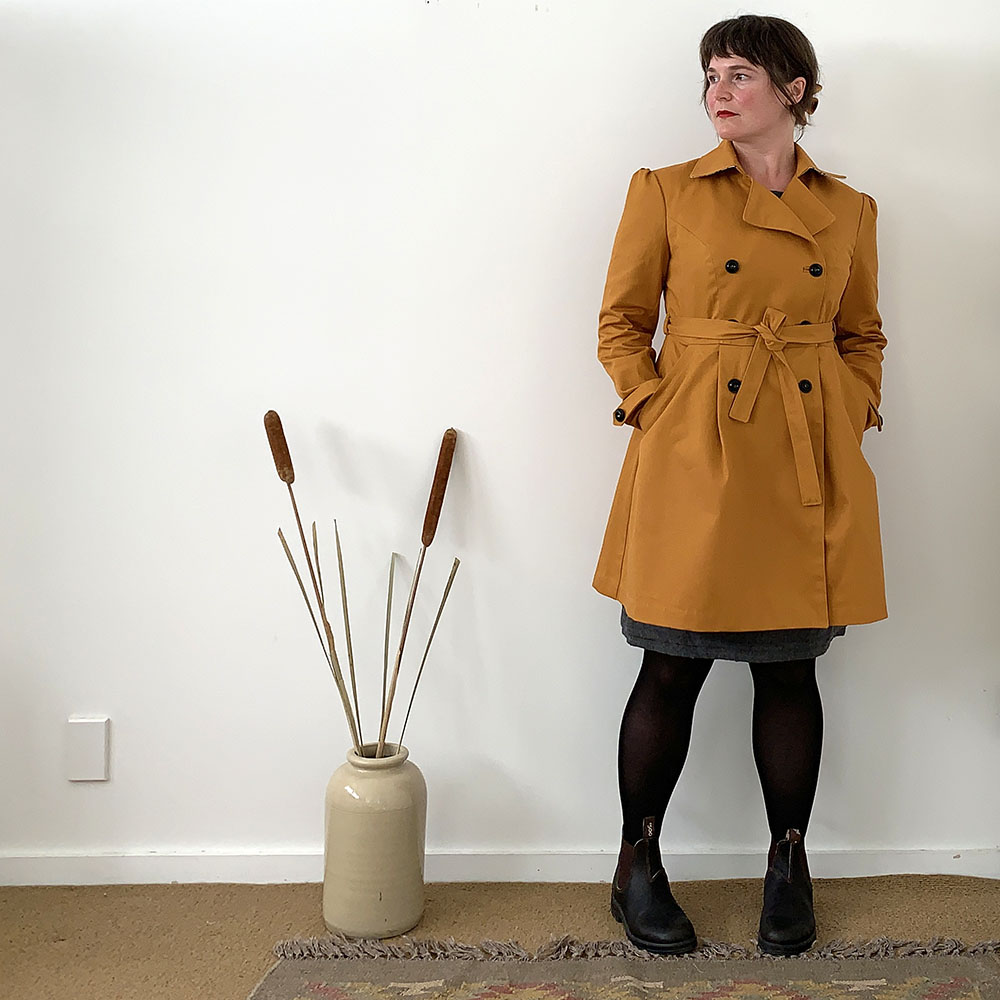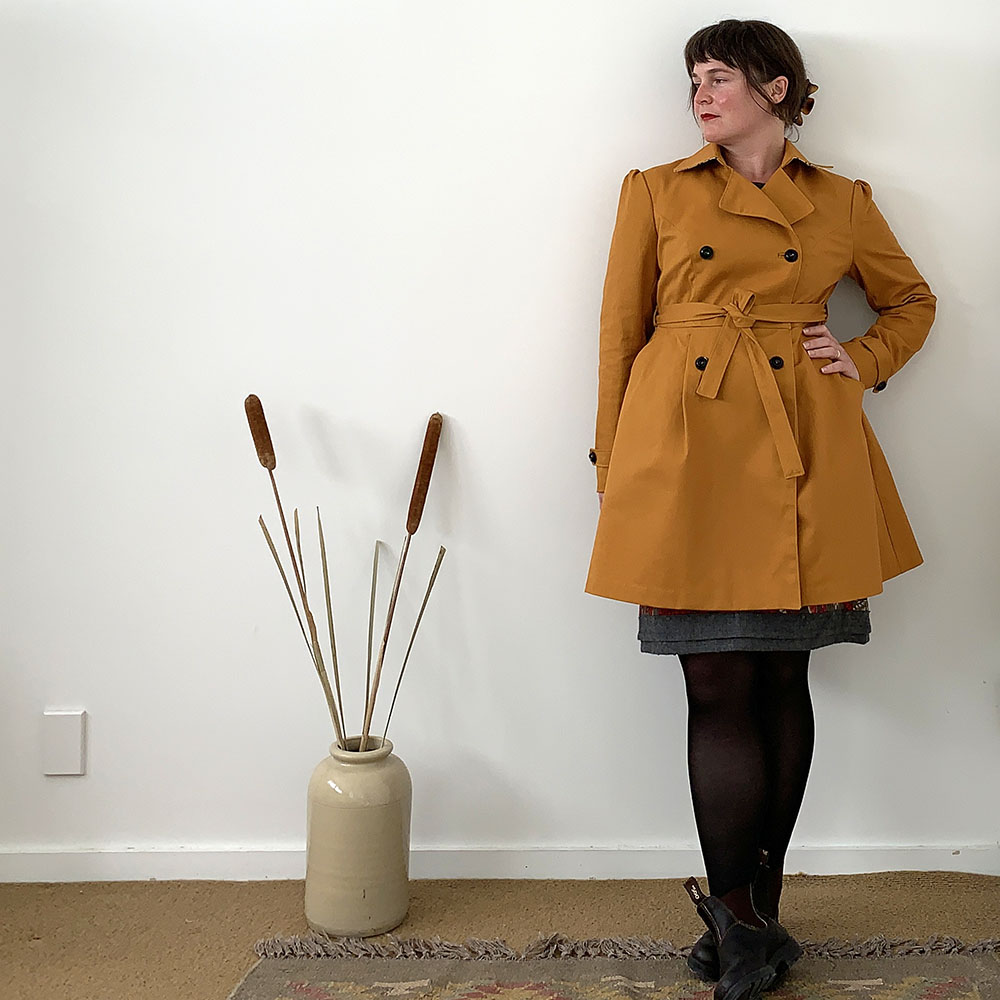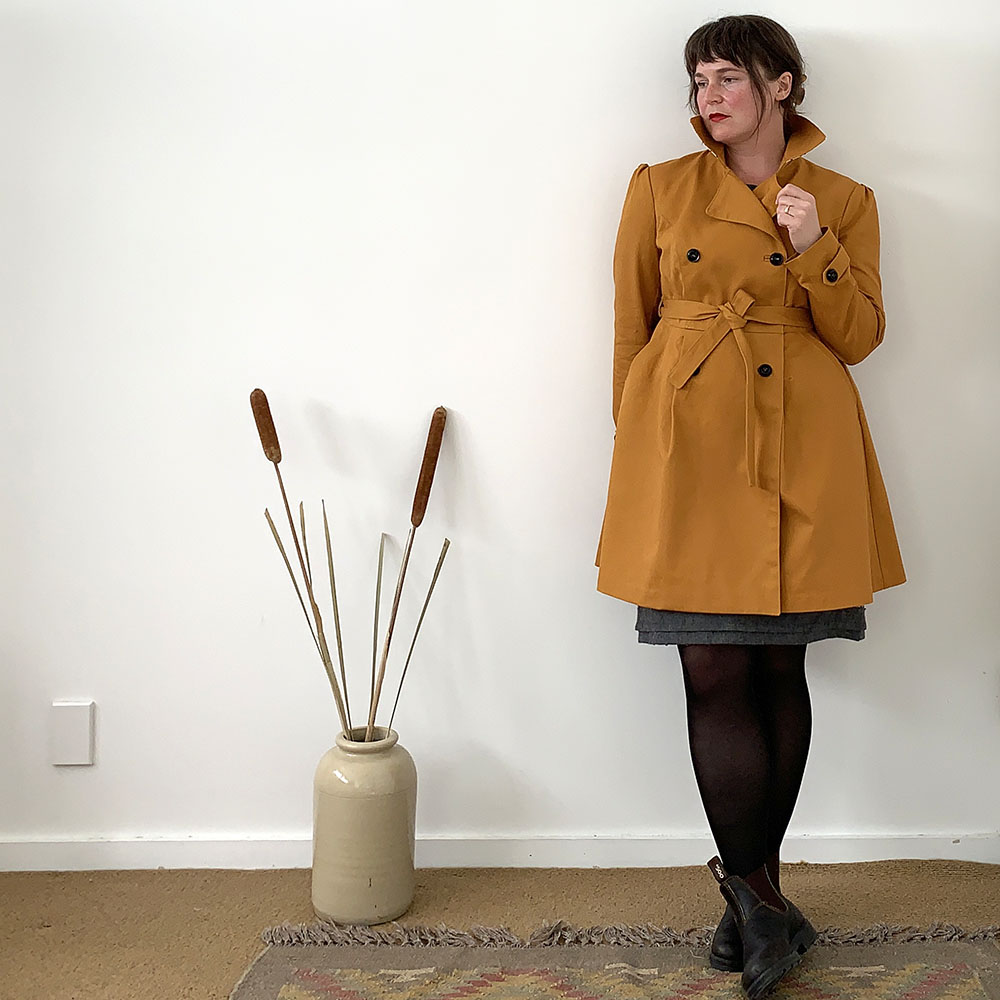 Vespa the Luzerne Trench has fitted seamlessly into my wardrobe! She gives me a pop of joy and power every time I wear her and, needless to say, I wear her all the time. Here she is hanging out with other parts of my wardrobe since I finished her. It is love.