June 2019 | Mismatched Buttons (A Monthly Journal)
Kalles and Ashtons and Libbys, oh my!
Well, it's been a hot minute since June, but now it's time to catch up on my Monthly Journal of makes.
And though June may be the first month of winter in New Zealand, for me it became my month of crop tops! Inspired partly by my HIGH-waited Ginger Jeans, and also by the awesome cropped wardrobe of Jacqui Cieslak of @jacquelinecieslak, this became my winter of showing off my sway-back to full effect.
On the final day of May, I cut out a cropped Kalle Shirt from Closet Case Patterns. The following morning I woke up to the details of a pattern test of the Ashton Top by Helen's Closet, of which I decided to make the cropped version. I rounded off June with a Libby Shirt by Sew Over It, finishing it on the last day of June. So, to step you through the crops one-by-one, let's begin with Kalle…
[As always, you can click on the images to make them larger.]
[Also, warning: sewing with swears in this post!]
Sunny Kalle
My Kalle came together like a little dream-come-true over the course of two days. The Kalle is a shirt pattern of multiple options and it's been on my radar since seeing this gorgeous round-up of Kalles by Bec of @isewthereforeiam.
I chose View A with a hidden placket, inverted pleat and a band collar. This was the first shirt I've made and everything but the collar came together simply and cleanly. Perhaps it was the thickness of the double-gauze or just simple ham-fistedness on my part, but although I got one side sitting nicely, I couldn't for the life of me get the other side to do so. I'm hoping with practice I'll nail this collar issue, but for this shirt, it's not too noticeable, so hey ho, you can't win them all! Making the hidden placket felt like a magic trick, and reinforced the fact that sewing is, indeed, a super power!
A personal modification was to even up the hems so the front and back hem are roughly the same length, instead of having a longer back than front. This is because with my sway-back a long boxy top can look hugely boxy in profile, in a way that I'm less than enthusiastic about. Fabric falls from the outer-most region of my shoulder blades to the outer-most region of my bum, making a quite wide column-shaped-silhouette where my back is actually swaying in. By cropping the length of the back to a bit above my bum, I can cheat the silhouette a little, show the direction of travel of my back—that it's going inwards, not straight up—whilst still enjoying the je ne sais quoi of a boxy top. (You can see this best in the below-right profile image.)
My lovely, sunny Kalle is made from a glorious Nani Iro double-gauze called Fuccra : rakuen. I love the write-ups you can find on the Miss Matatabi website about their fabrics. For instance, on this fabric, it said: "'Rakuen', a world where flowers and birds sing that is overflowing with light". I mean, how can sewing not feel a little more wonderful when that is the fabric description? On sewing with double-gauze, I was quite concerned about it, but in the end had no problems. I used my trusty walking foot, friend of all tricky-fabric endeavours and all was well. The fabric is beautifully soft and cozy to wear, making it a surprisingly warm addition to my winter wardrobe.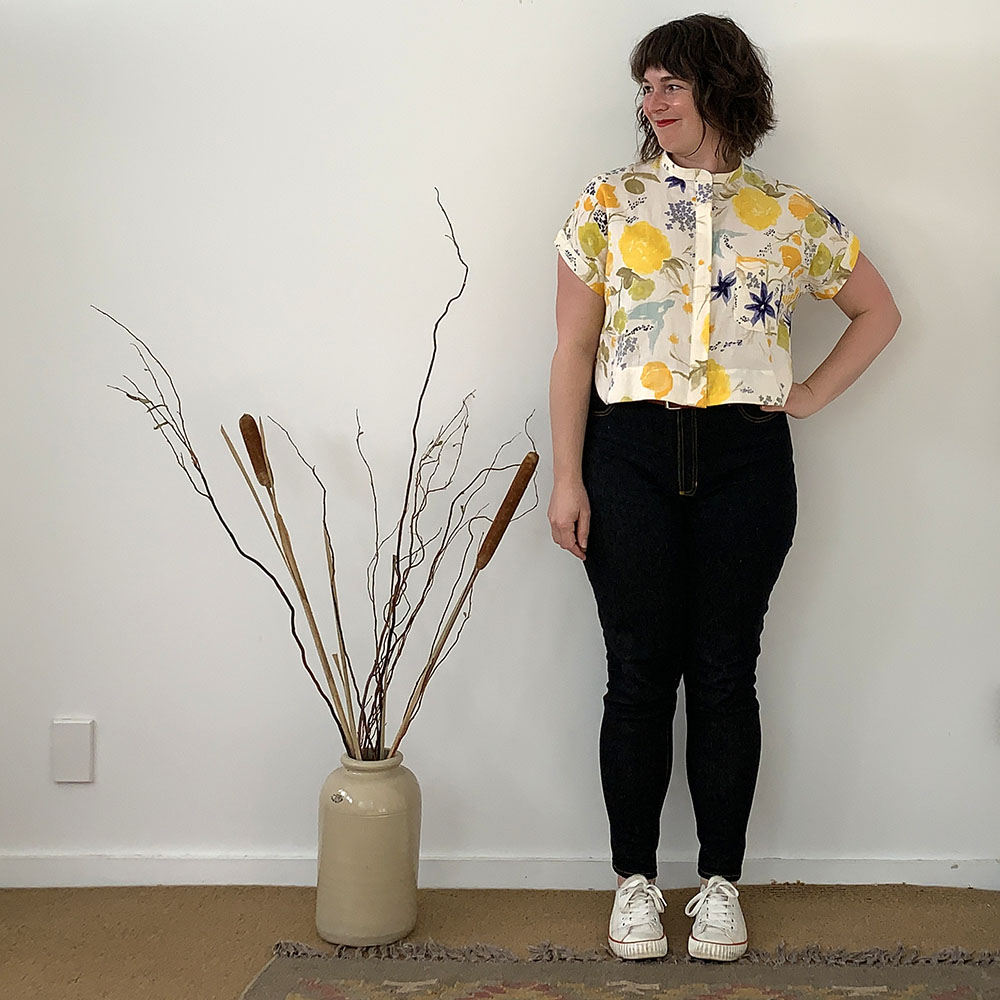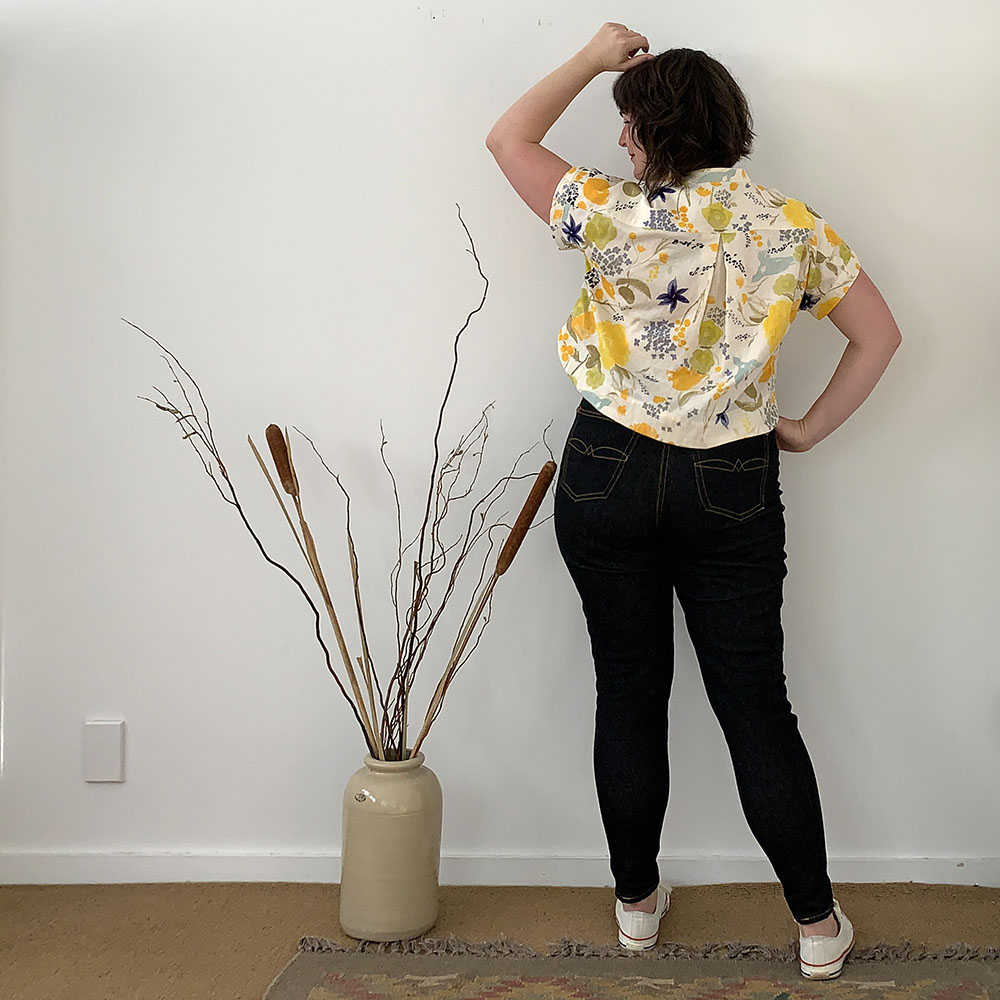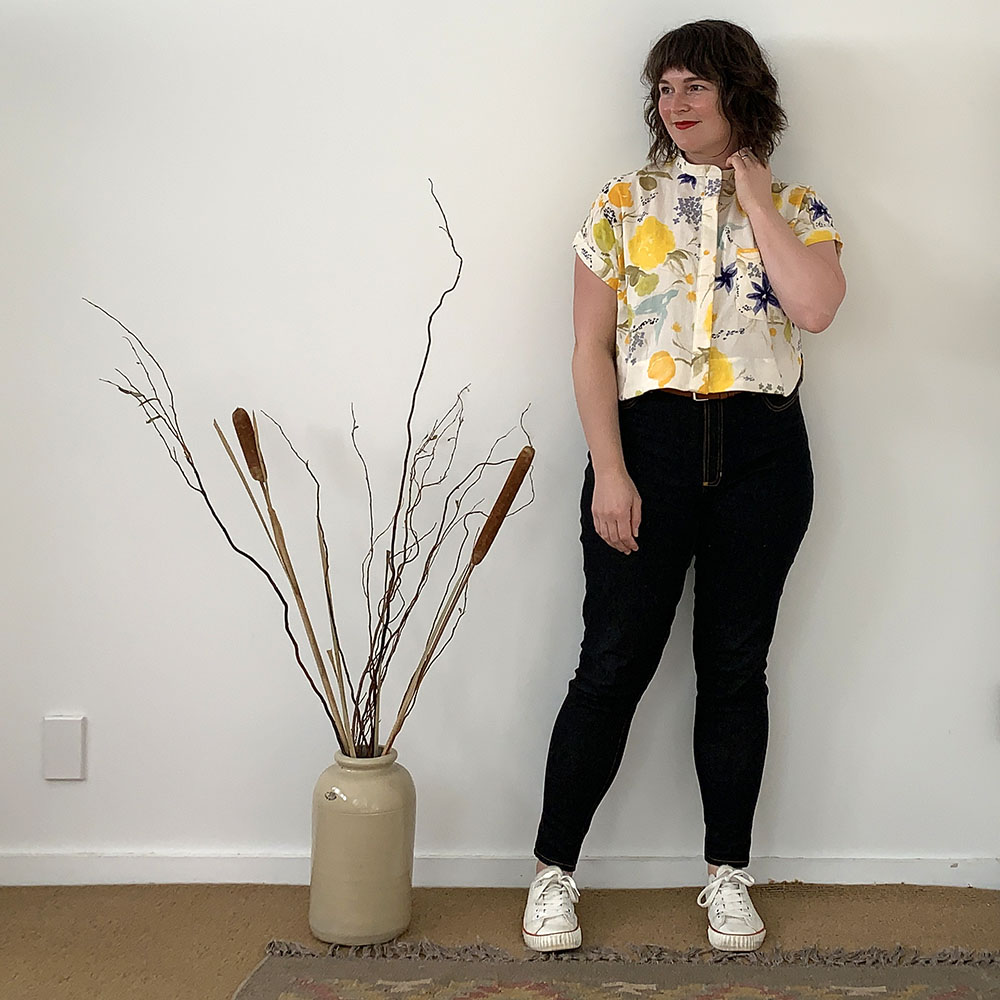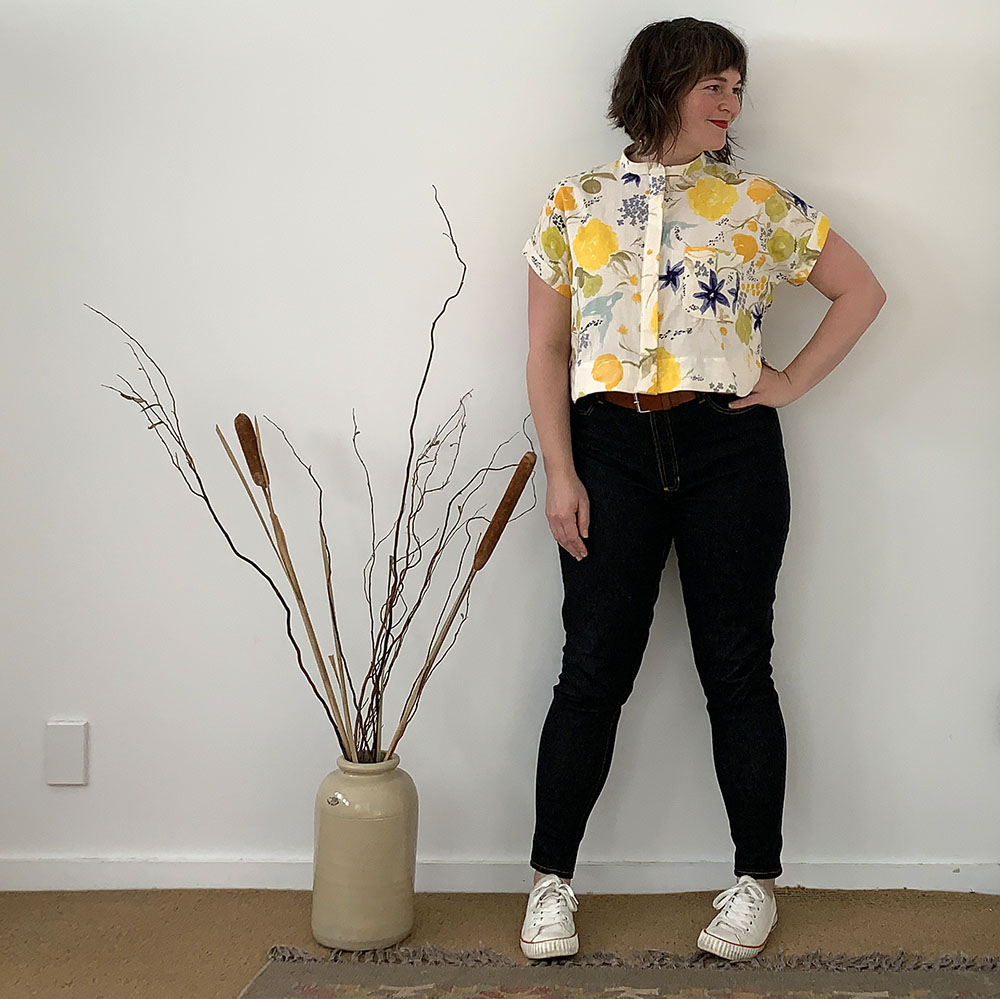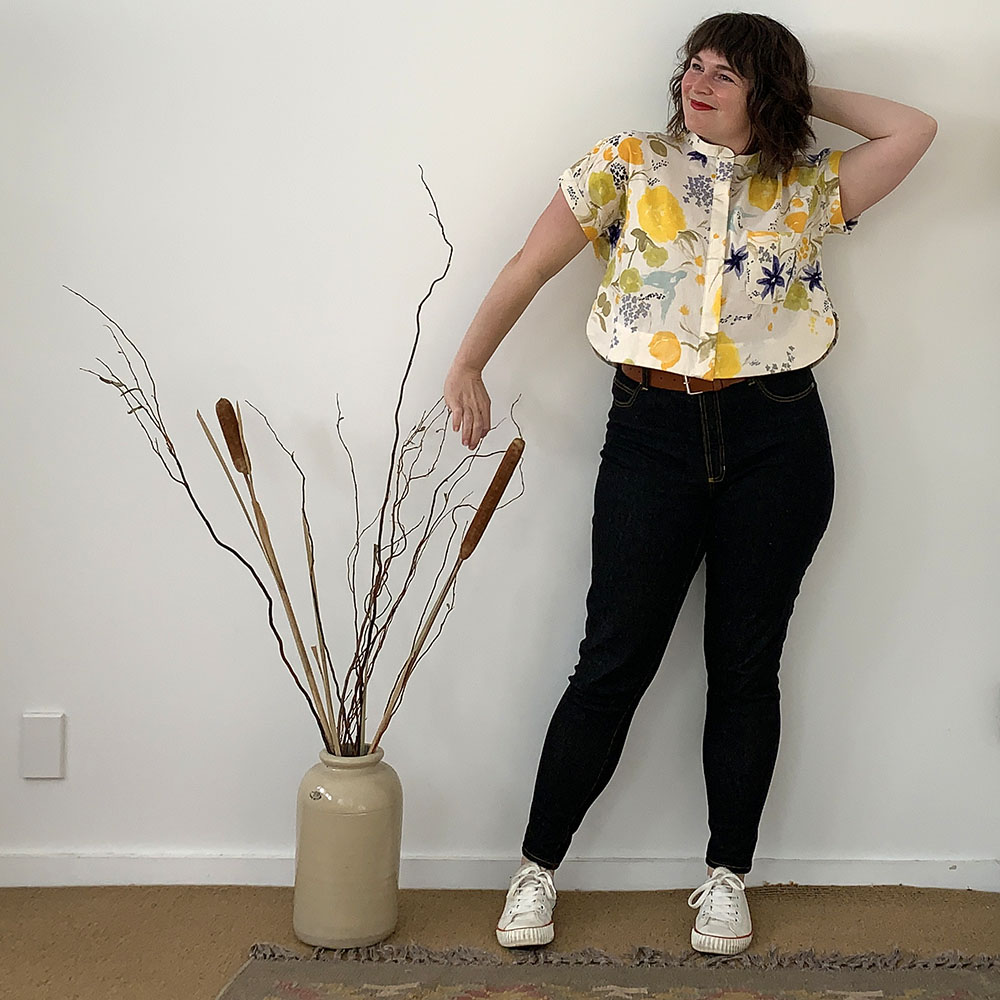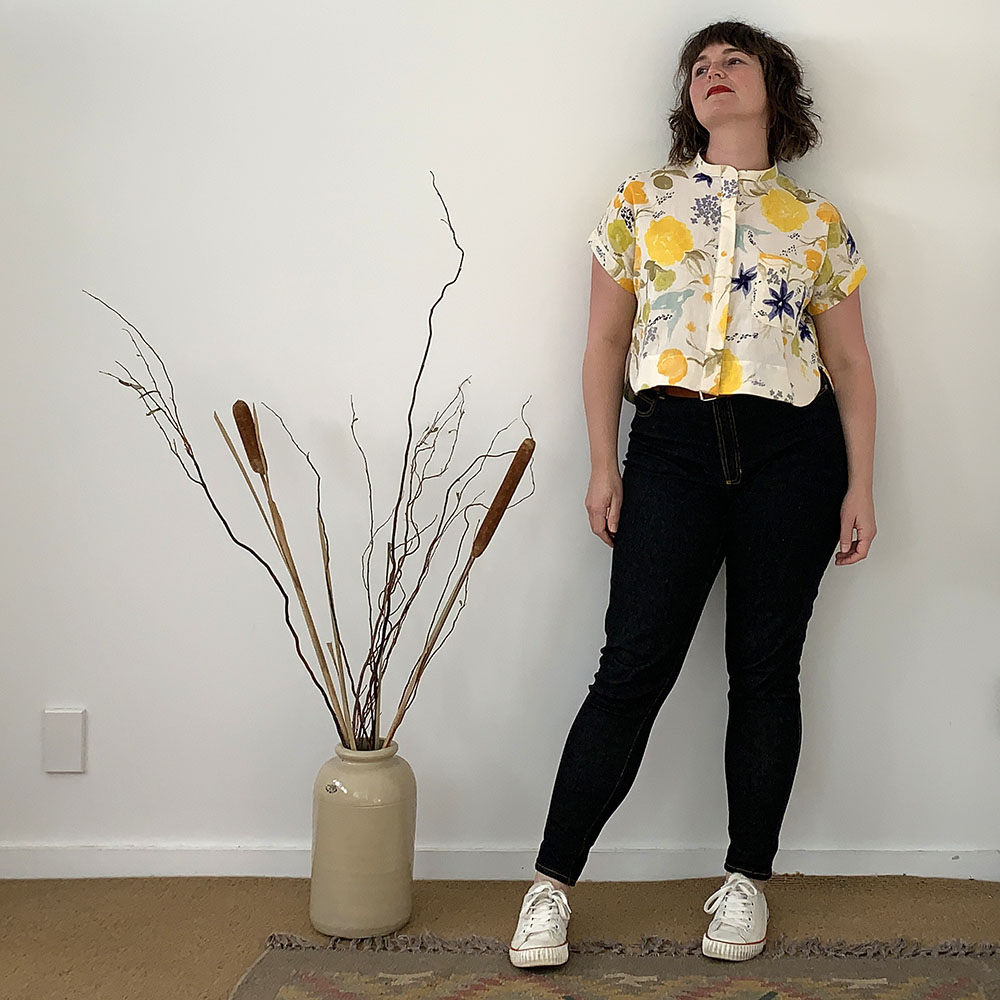 This Kalle has felt like a winter ray of sun, warming me up on some of the coolest days with its joyful print and gorgeous soft texture. You can count on Kalle making a reappearance on my blog in other forms and fabrics in the future!
Something I noticed while writing my Me Made May round up is that I have a reasonably tight colour palette in my wardrobe. I tend to wear mustard and blue and yellow and pink and ochre and gold and mustard and a little mustard, with a few other limited hues thrown in. This makes for a great, coordinating capsule wardrobe, but isn't an adequate reflection of how I feel about wearing colours. I want to dress like the whole crayon box, not just like a crayon, you know? And one of the most curious gaps I have is garments in green. I love green. I suit particular greens. So why don't I have any in my wardrobe?
So, armed with some beautiful green and cream ikat I had in my stash, testing the Ashton Tank by Helen's Closet was a quick and exciting way to introduce this illusive hue into my wardrobe. I bought this ikat from Stonemountain and Daughter Fabric; they have a remarkable range of ikat and the quality is great. I cut this project out during a lovely sewing day (complete with roast chicken, mulled wine and lemon tart) with Kirsten of @kirtensewsthings and Ruby of @allknightsewing.
As for the Ashton? Well, I think this is a gem of a pattern! It is the stash-buster to end all stash-busters. It is an excellent garment for both summer and winter (teamed with a Blackwood Cardigan, natch). And, being a Helen's Closet pattern, its instructions are exquisitely detailed, offering oodles of information on alternative techniques and top tips, making this a perfect beginner pattern as well as a great wardrobe staple. Dare I say (or is this sewing blaspheme?) move over Willow Tank … there's a new kid in town!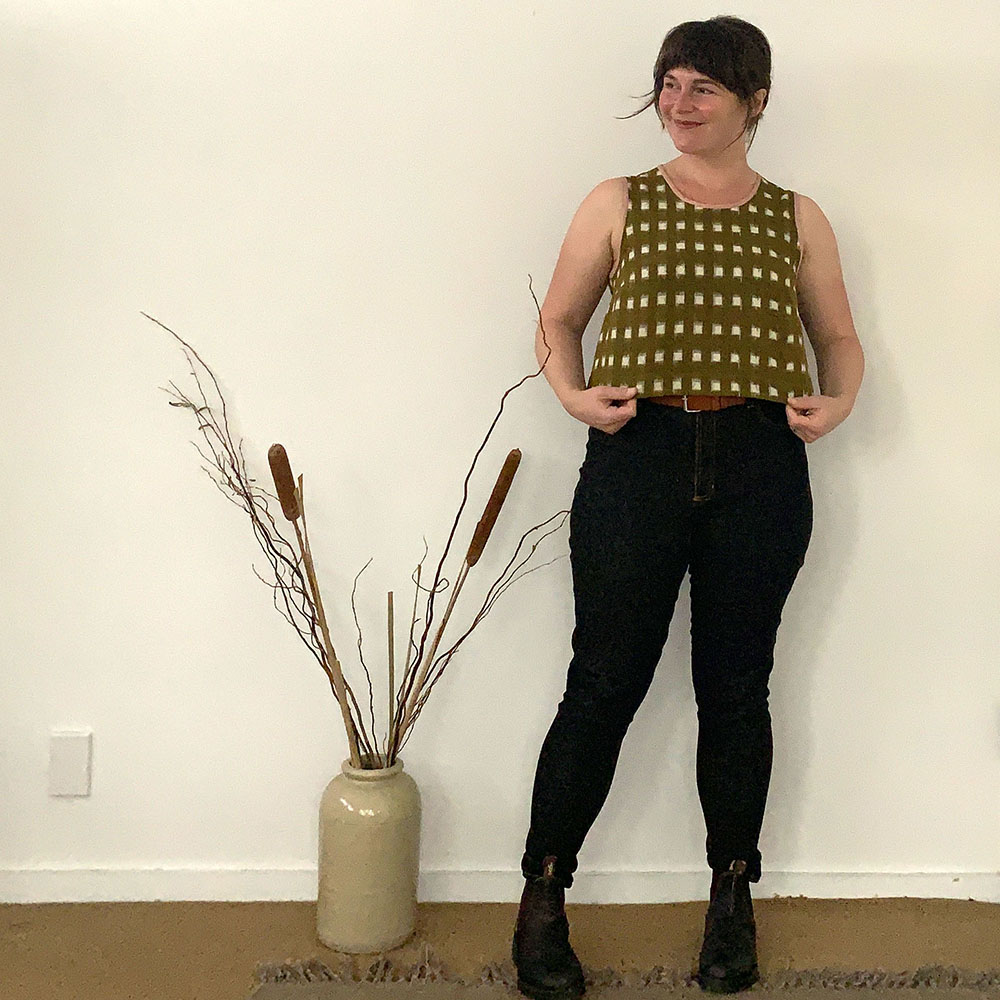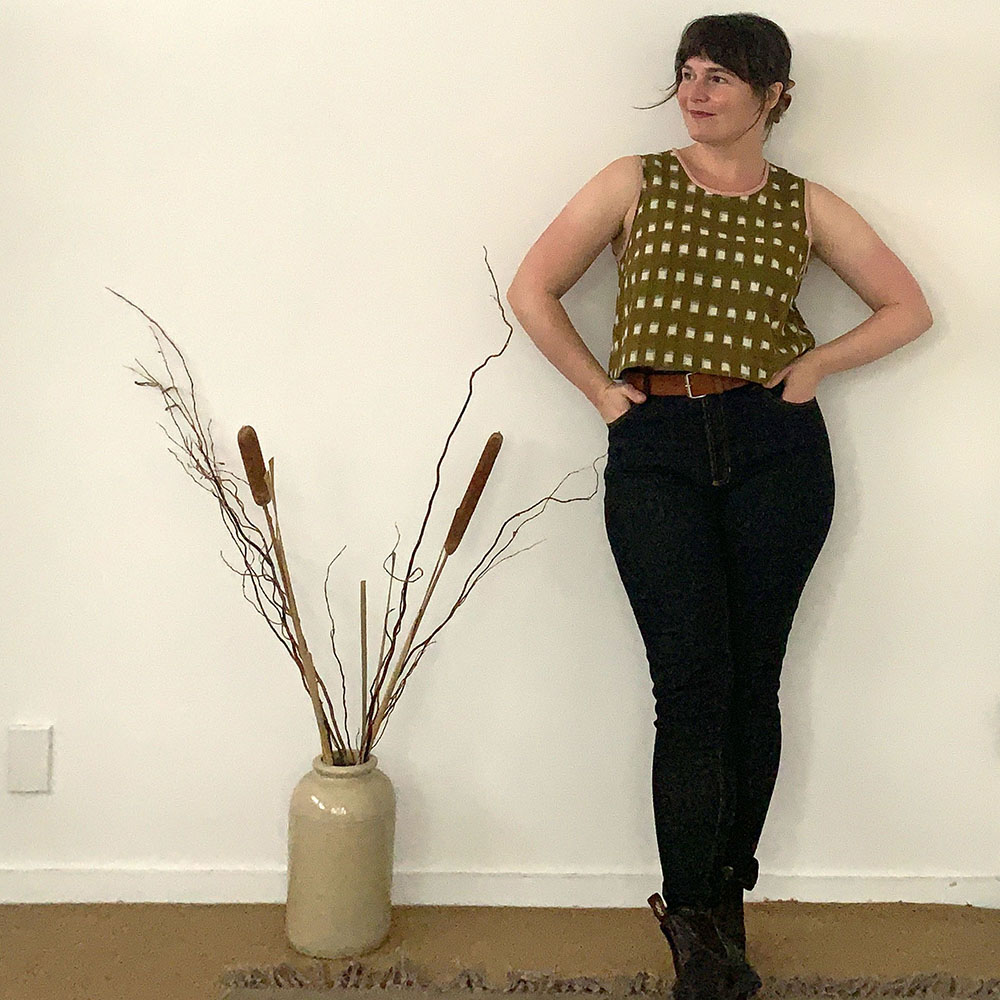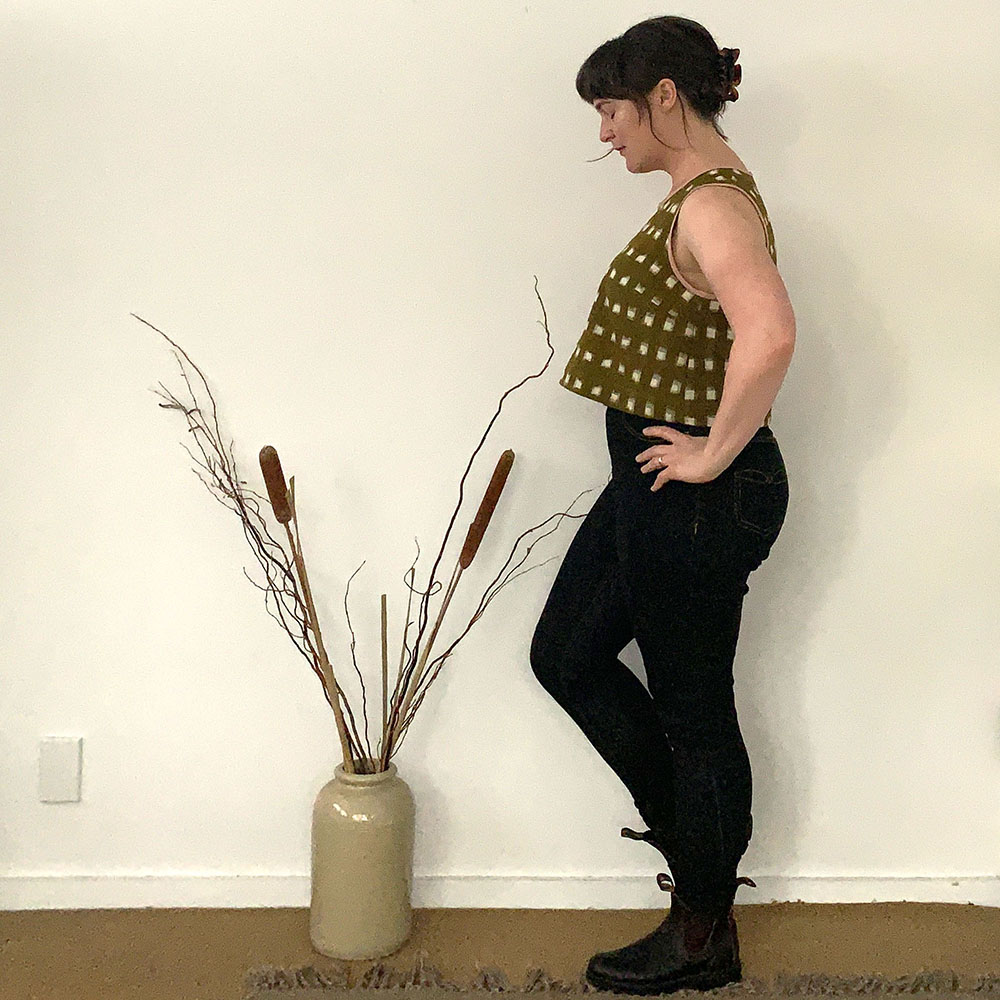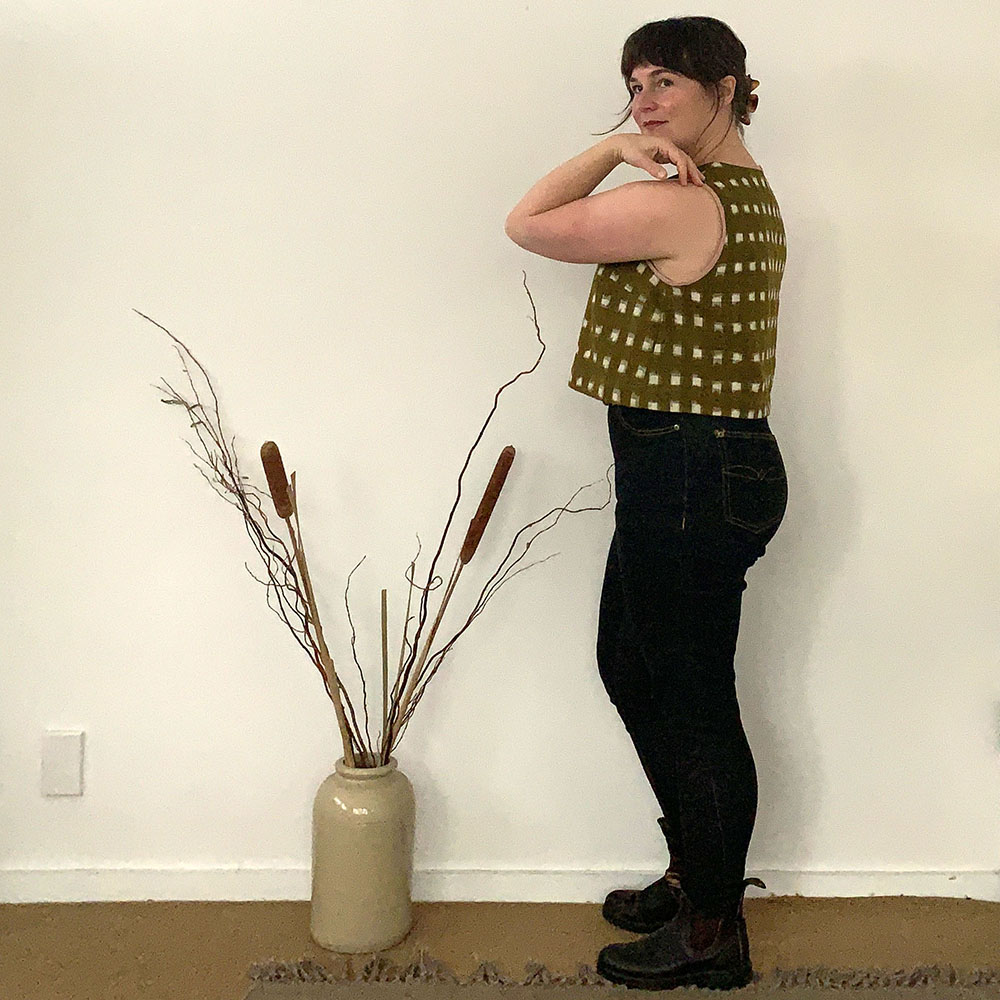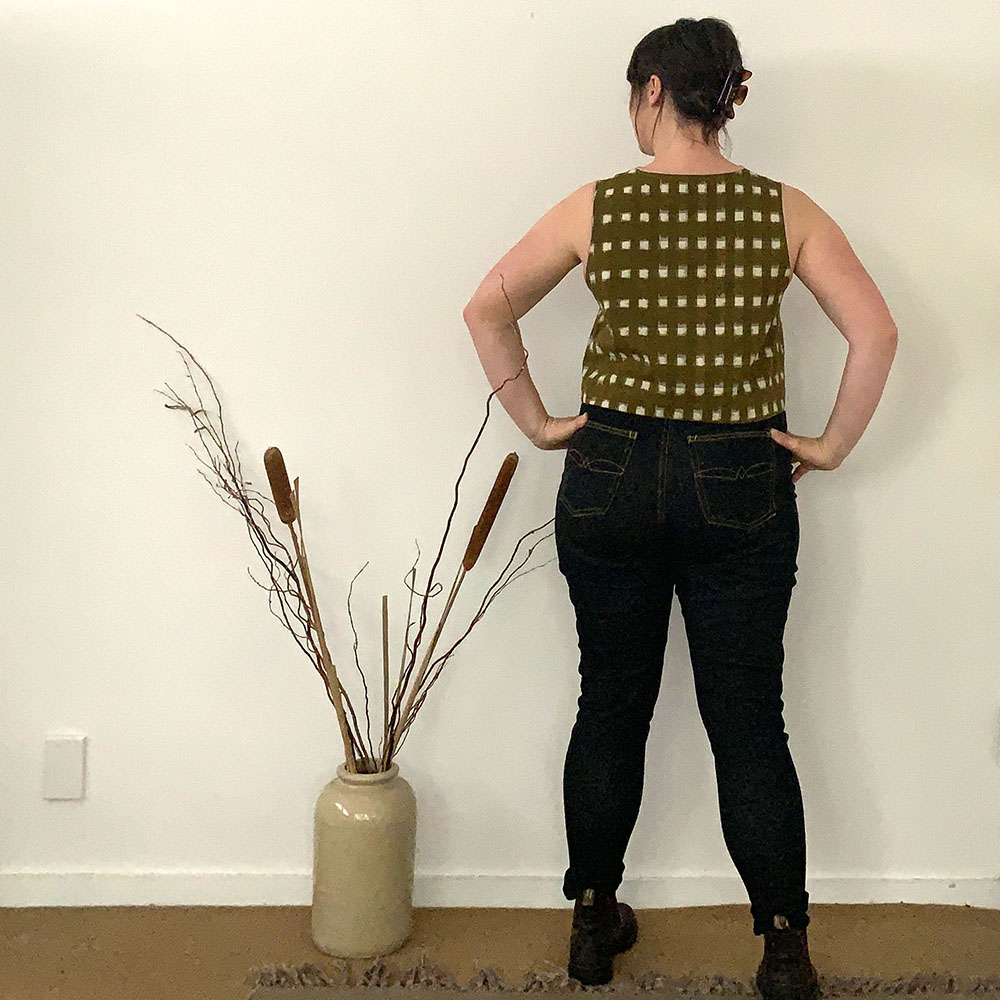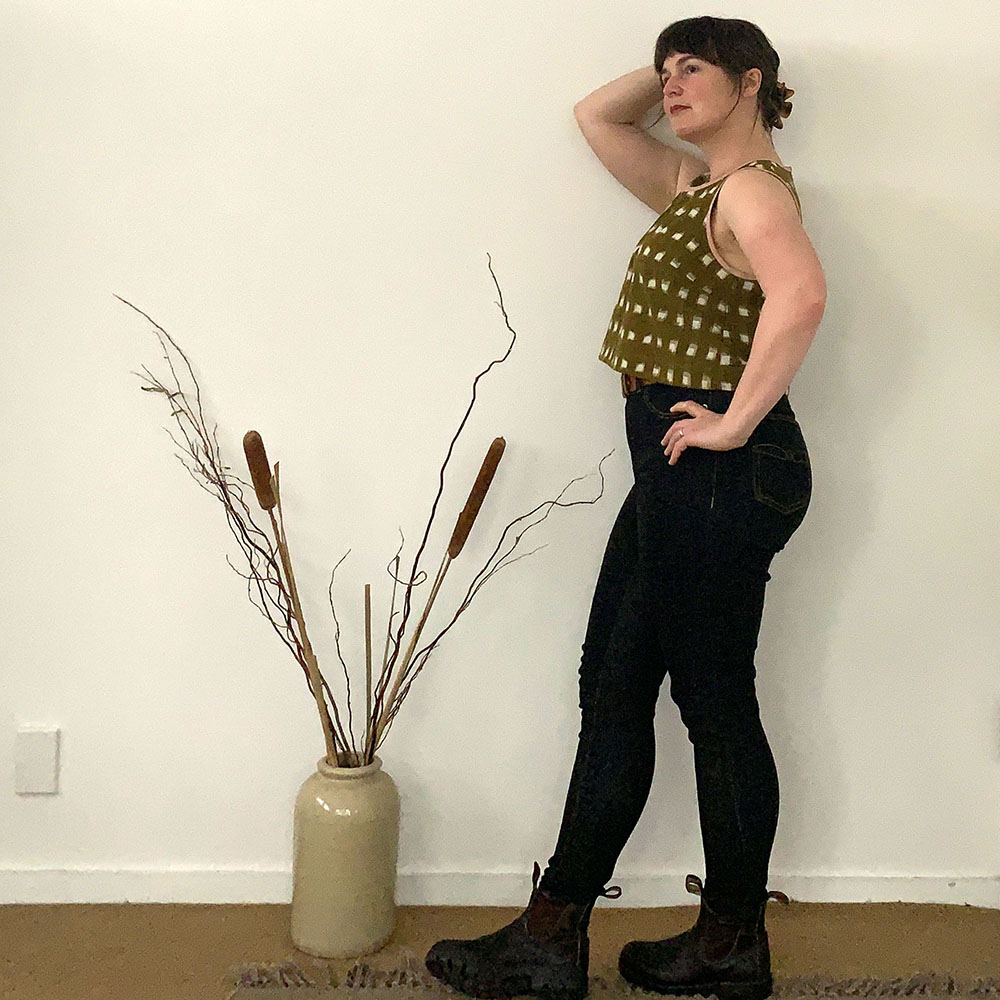 It comes in a wide size range (0-30), two cup sizes, two different lengths and you can choose between an all-in-one facing finish or a bias-binding finishing, making sure Ashton's guts are as lovely as her outside. I used a contrasting linen bias binding I already had in my stash, sewing it so the contrast is exposed, but the instructions explain how to sew the bias binding so its hidden.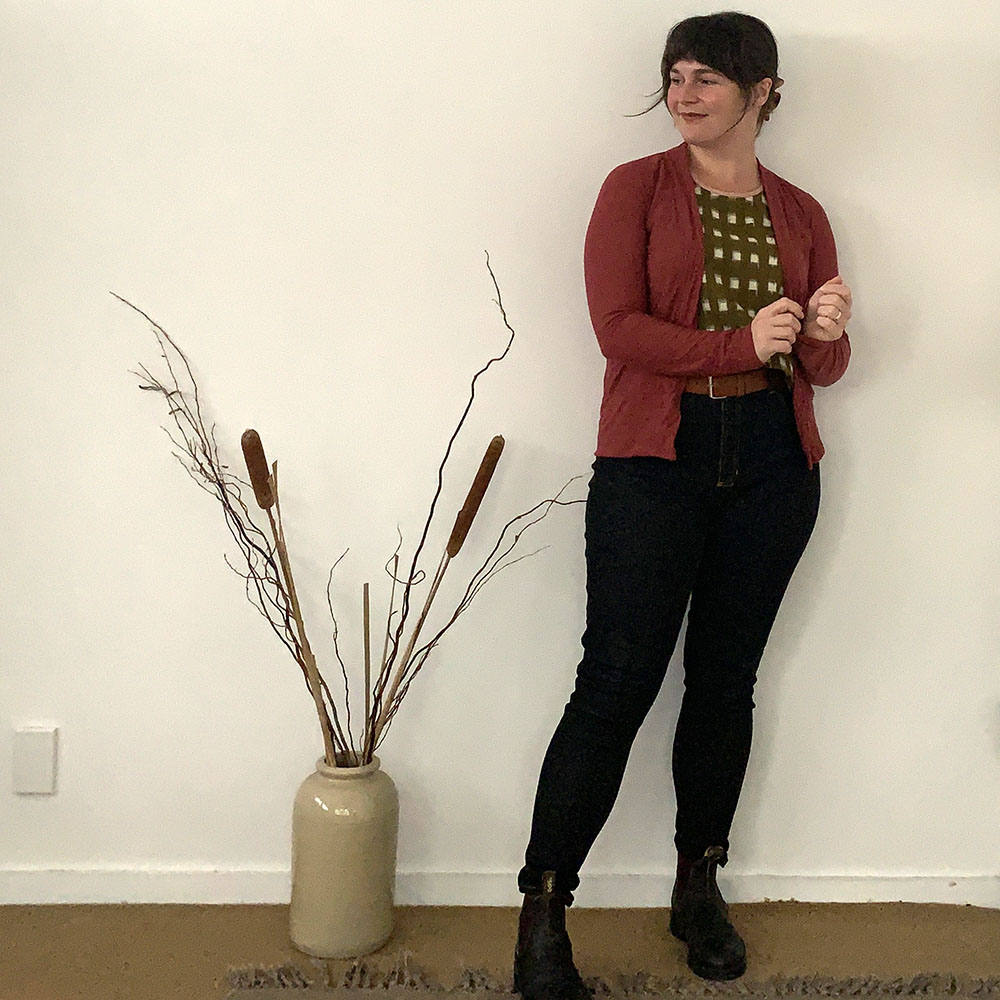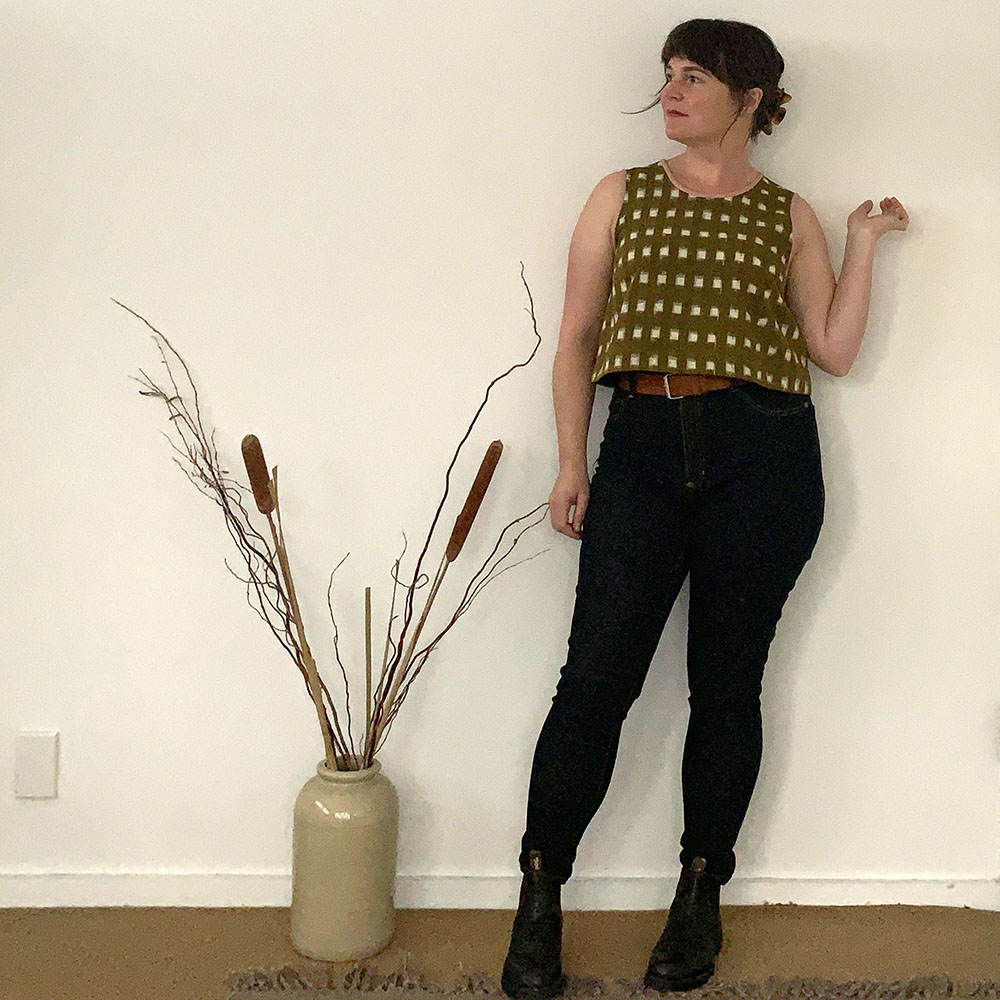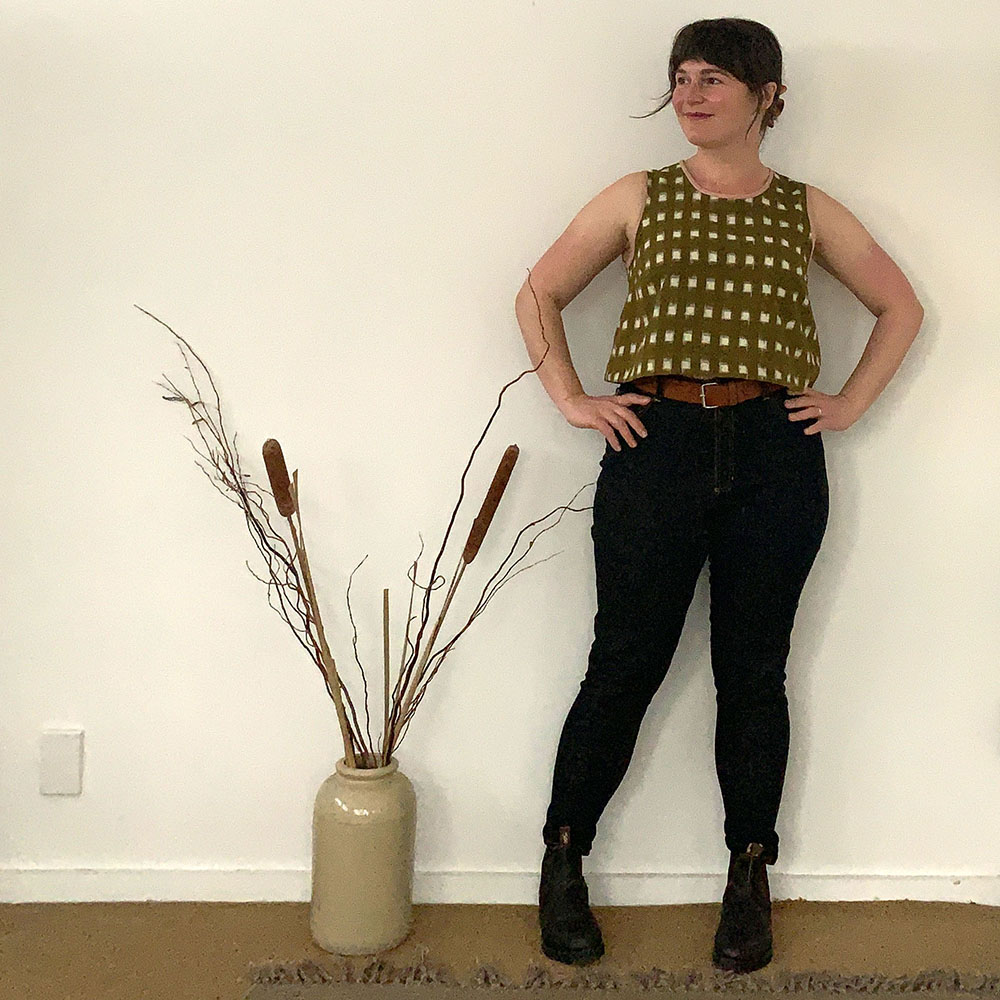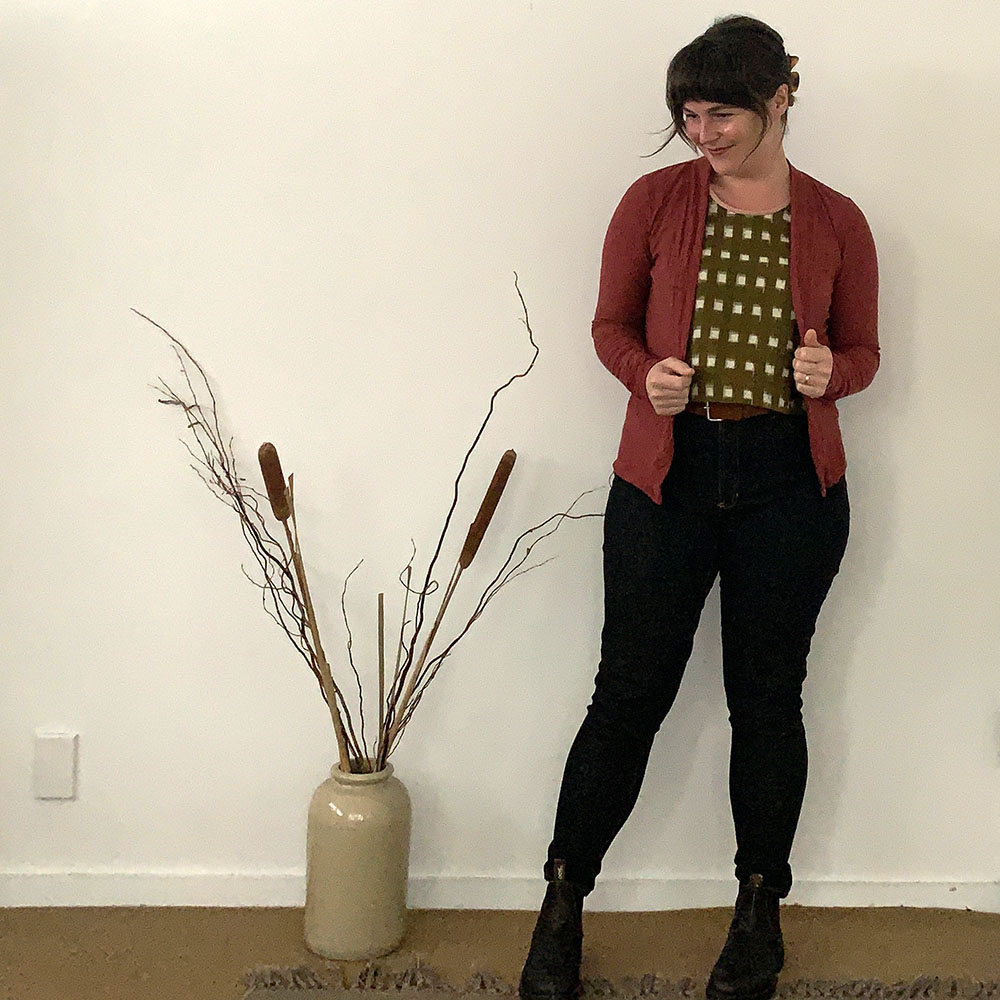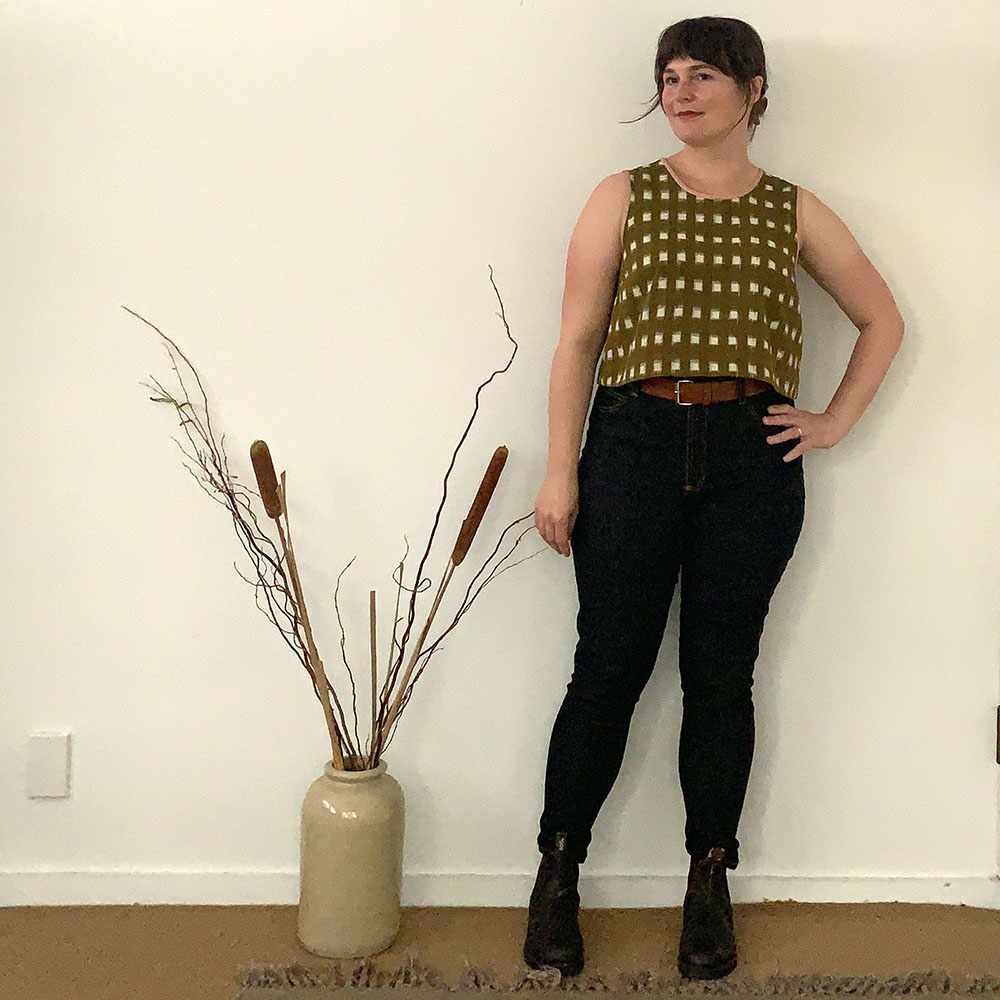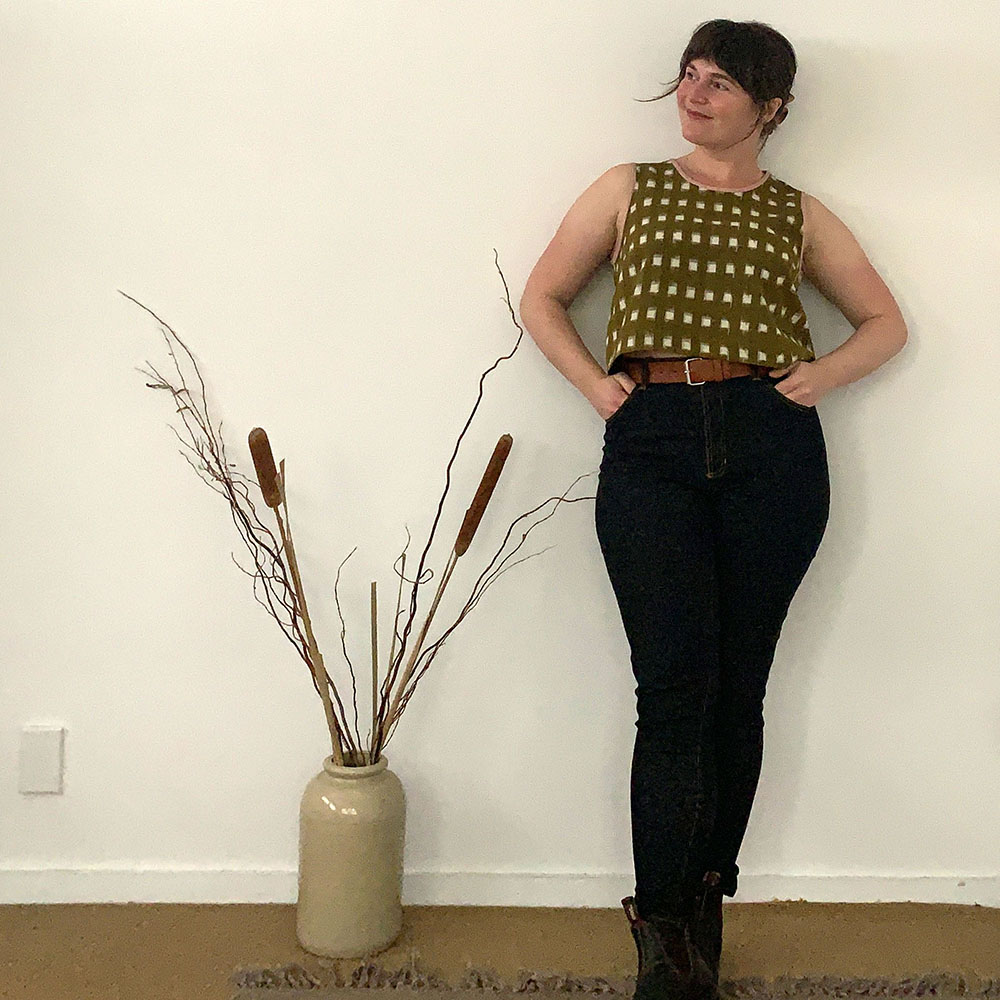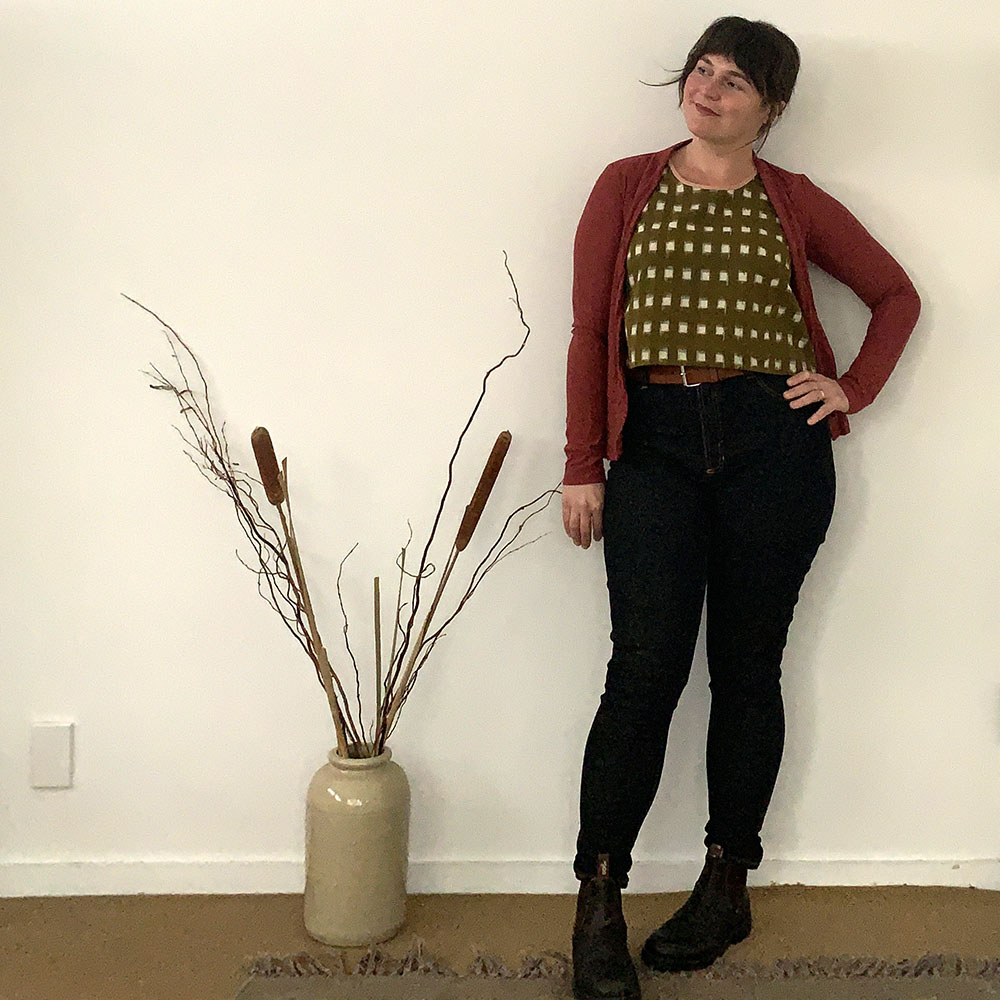 And as for the introduction of green into my wardrobe? I love it! Give me more! My favorite combination is the below, my Rosella outfit! In it, I'm covering off red, yellow, pink, green, orange and blue, and I truly feel that—here—I am the whole crayon box, and it is wonderful!
Lovely Libby
To round out my month of crop tops, I decided to keep going with my experimentation into collared shirts. I've always felt a little uncomfortable in a traditional collared shirt, something I've attributed to my well-defined trapezius muscles: they push collars further up my neck than on other people. That's fine, though, I'm not complaining! My trapezius muscles are a symbol of the physical work I've put into my drawing and painting practices, a part of my physiological history that I'm rather proud of.
They did, however, get me thinking about alternative collars that I would feel more comfortable in, and Libby by Sew Over It was the first to pop into my head. (Jumping back up, Kalle, too, with its band collar was another of these experiments, and I am delighted with how this collar looks on me. I also plan to try Deer and Doe's Mélilot Shirt at some point for the same reason.) Libby has a partial-collar-stand, rather than a full one, making for a softer silhouette around the neck.
I sewed Libby up out of some Atelier Brunette Posie Green viscose dobby from Miss Maude (PSA: as at the time of writing, Emma still has some in stock). This is a truly beautiful fabric. The pattern is very sweet, the hand-feel is soft and drapy, but with a little texture that makes it not too bad to sew with. It is a little shear, but not indecently so. I do wear a white camisole underneath it, but you could get away with not doing that.
So I had a few … moments when it came to sewing up Libby. I've often found that Sew Over It's instructions can be, frankly, pretty whackadoodle. In Libby, this was especially the case when attaching the collar to the shirt. The instructions were quite confusing, there are an awful lot of notches and markings to keep track of and I do struggle to see what's going on in the photographs. I ended up hand-sewing a fair chunk of it when attaching the inside of the collar to the inside of the shirt and enclosing all the raw hems in the collar-stand because I knew I would have more control over everything. As far as advice goes, this is my advice: when in doubt, hand-baste and possibly also hand-sew. I promise you, this is infinitely quicker than fucking up, having a meltdown and then having to unpick.
I did get a few questions about the sleeve cuffs from other sewists: it seems that others have had problems with adding the cuffs, but my sleeve cuffs went on totally fine. It took me a while to figure it out, but I think the problems occurred when people weren't following the instructions and sewed up the side-seams before attaching the cuffs. For Libby, you've gotta attach the cuffs flat.
I'm an unashaméd instruction-follower. First time I sew a pattern I will do it pretty much as the pattern directs, even if I might know a different way, because instructions are ideally like dominoes: everything is lined up and they fall in an orderly manner. If you remove a few dominoes, put some over here, and tweak some others, you can't guarantee that the dominoes are going to fall in that orderly way they should. Case and point is the sleeve of the Libby: sewing the cuffs in flat meant my cuffs worked out easily and have a very tidy finish.
I will gladly complain, and support complaints, when instructions are weird, poorly-written, convoluted, or where they produce an ugly finish (see collar-complaints above) but I do think—no matter how experienced you are—you gotta have a cursory glance through the instructions to see if by going off-piste you're going to create a gap in that fall of dominoes.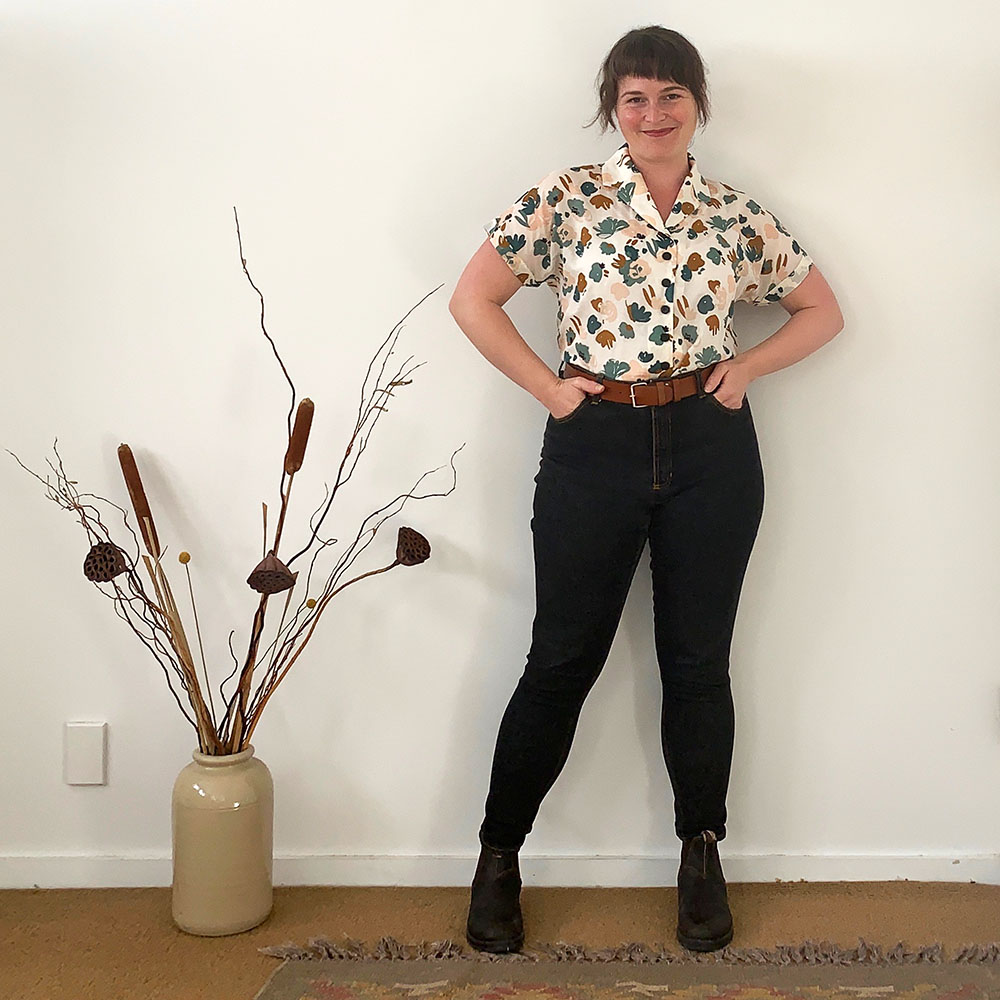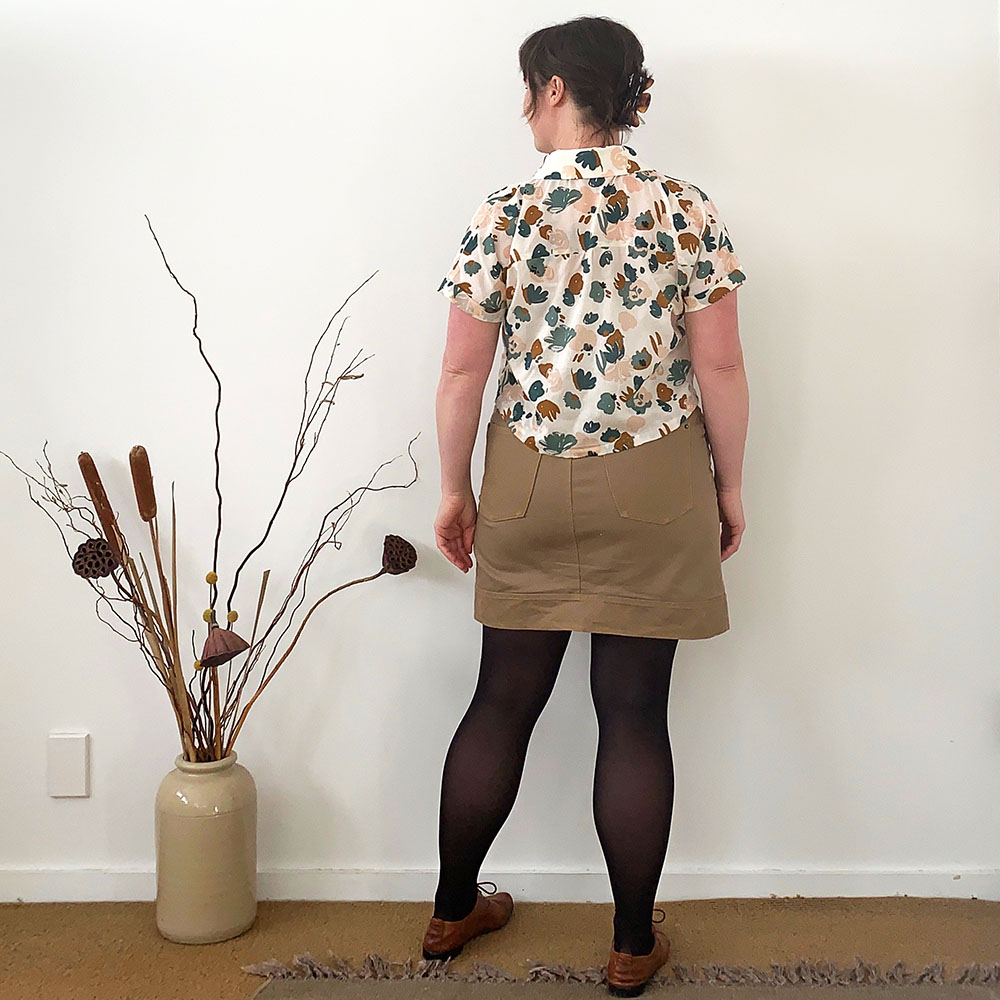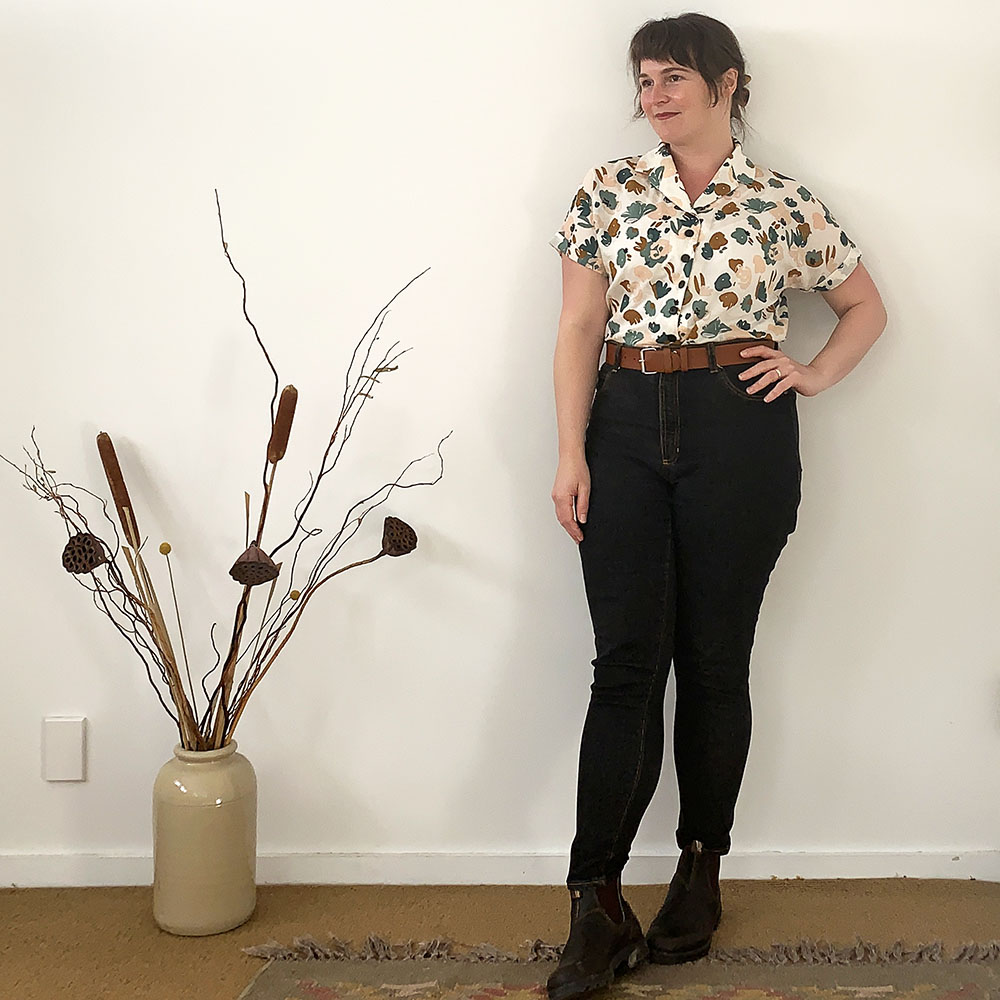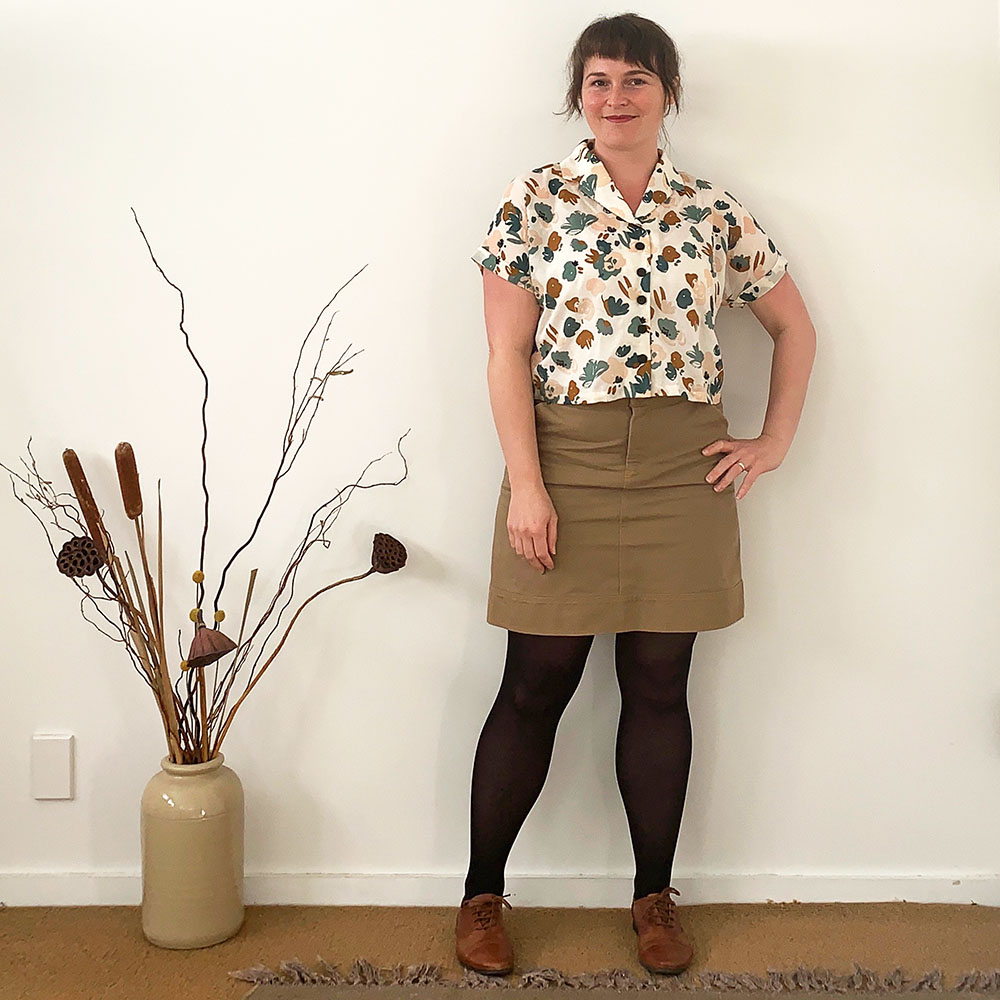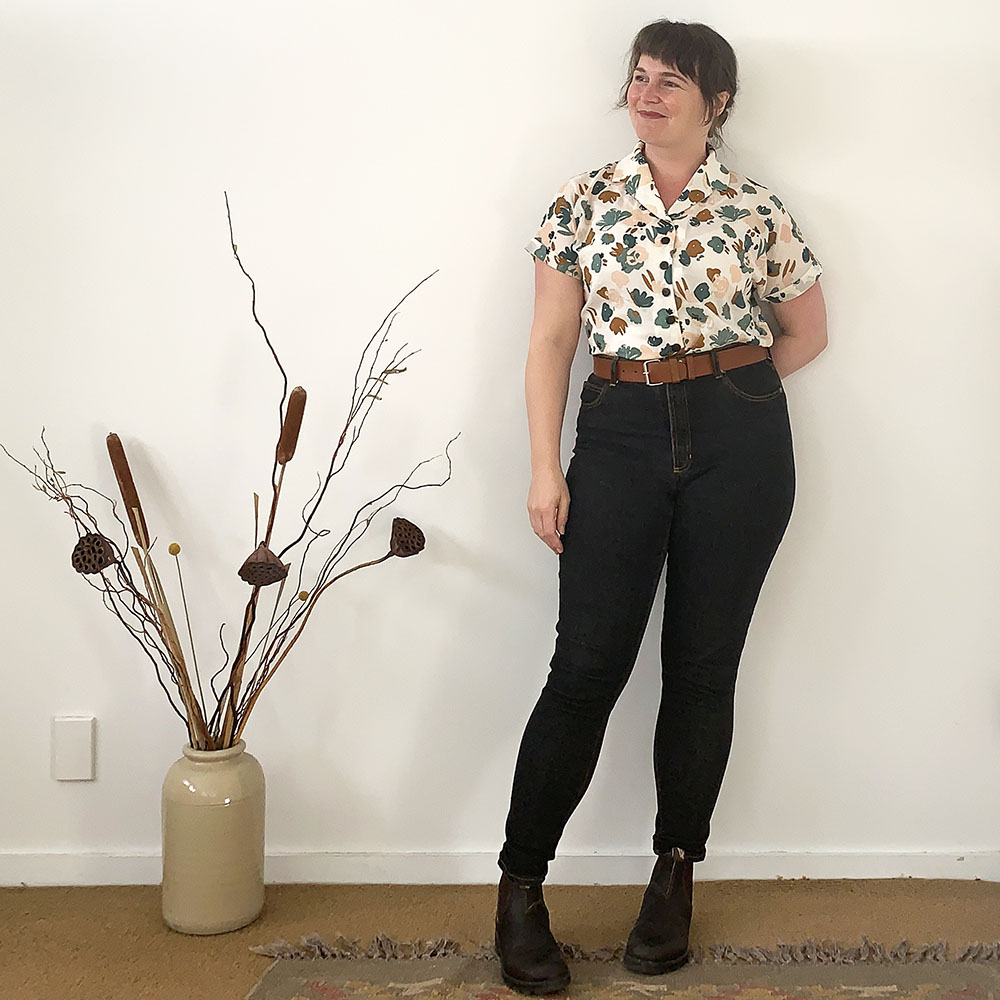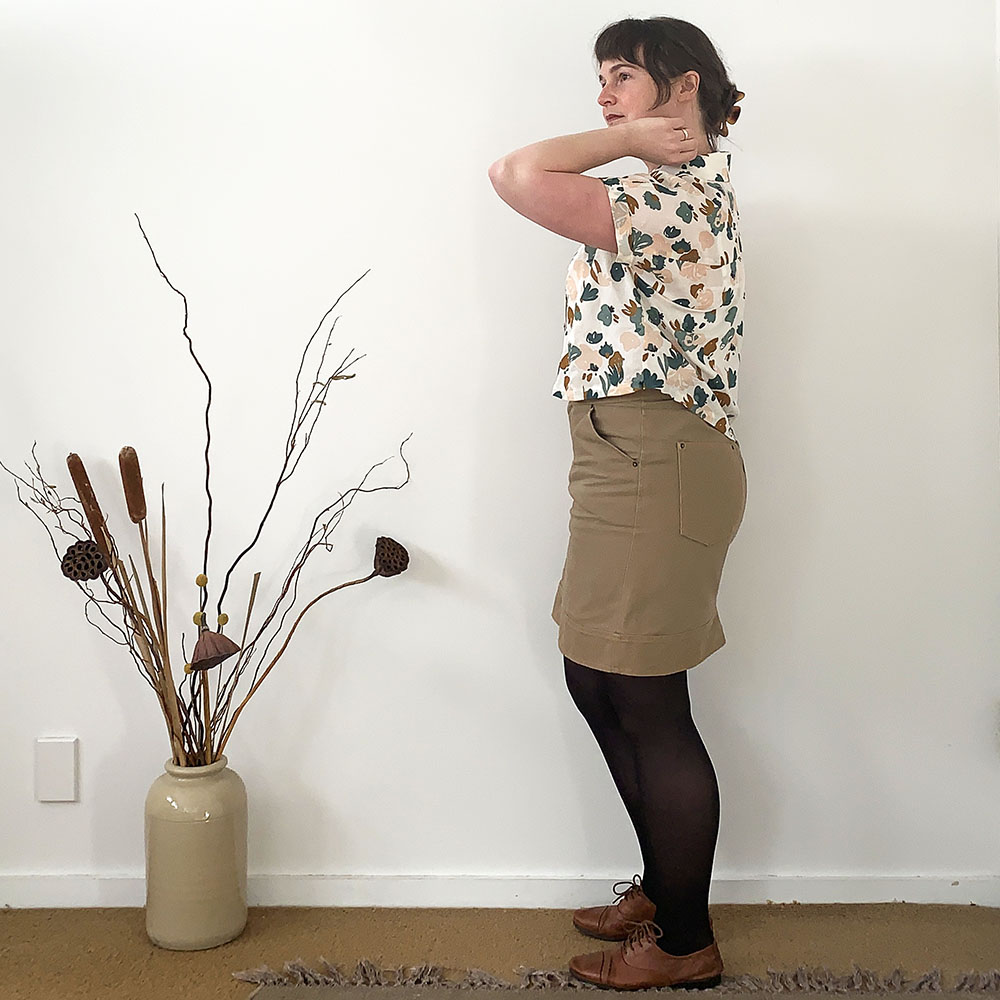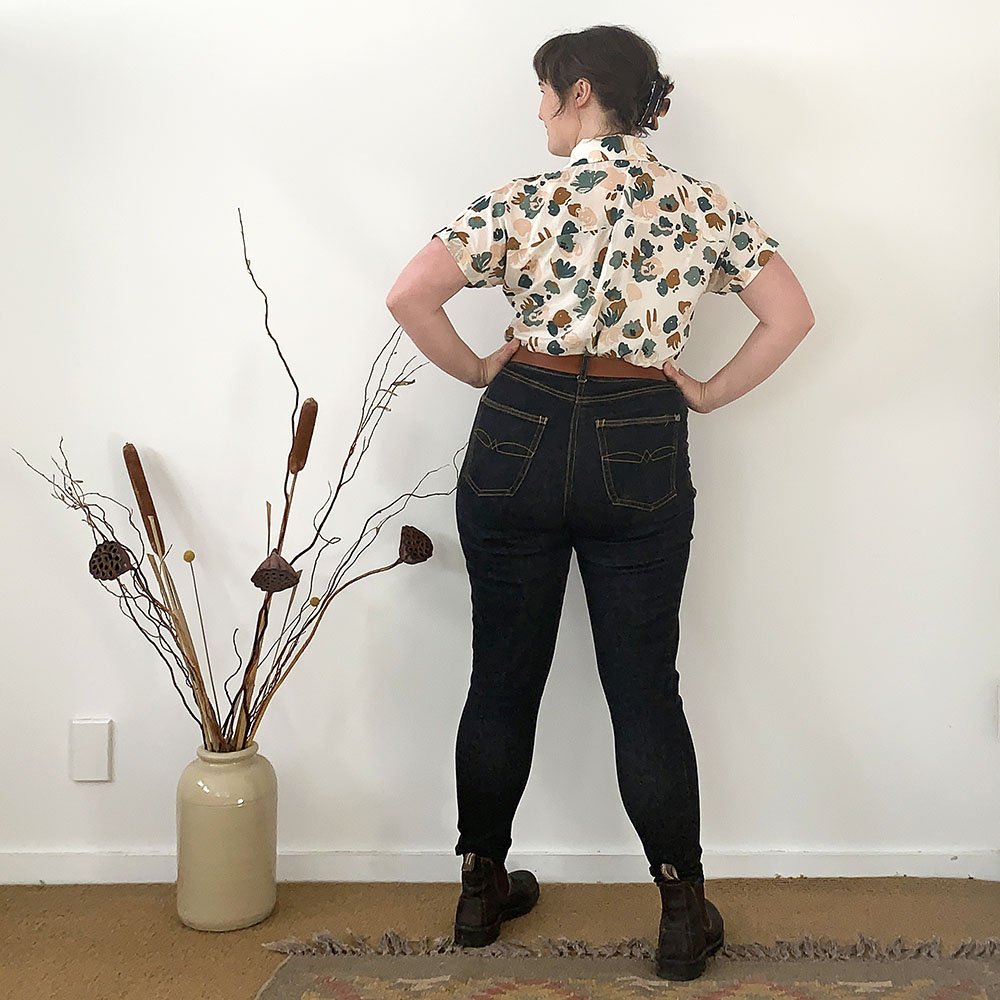 For the problems I had with the collar instructions, though, I do like my Libby Shirt. It's not my favourite make of the month, but it's very sweet, slightly vintage-looking, and it does answer the brief for alternative-collars-for-developed-traps. I love her details, I think the lapel-shape is utterly gorgeous, and I love wearing Libby with my HIGH-waisted Gingers.
So that's a wrap for my June of crop-tops! Stand by, dear Reader, for my July of pants!